Champion (2009)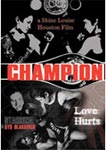 There was already a buzz about Champion, the latest film from lesbian auteur Shine Louise Houston, well before it was released. When the DVD arrived it was welcomed with an avalanche of positive reviews and then went on to win Movie of the Year at the Feminist Porn Awards.
So, does it live up to the hype?
I'm happy to confirm that Champion is indeed a champion of a porn film. And this is coming from a straight chick who has never been a fan of boxing films.
Champion tells the story of Jessie Eaton (Syd Blakovich), a rising star of the female mixed-martial arts scene. She a tough cookie – as ruthless in the ring as the bedroom and quite determinedly butch in her appearance. Between fights and training, Jessie dallies with her ex-girlfriend Cathy (Jiz Lee), fuck complete strangers (Madison Young) and flirts with her opponent Violet (Dallas). On the cusp of the big time, her manager tells her to tone down her lesbianism so as not to upset possible sponsors. Meanwhile, she comes under pressure to throw the big fight. Can she maintain her integrity both as a sportswoman and as a lover?
Champion is a little like Rocky, except there's a lot less Sylvester Stallone and a lot more explicit lesbian sex. What is exceptional about this film is that it crosses over the boundaries of "mere porn" and blazes fearlessly into indie filmmaking territory, presenting a realistic and engaging story of ambition in the unusual world of mixed martial arts. The acting is great, the attention to story is impressive and the production values are high.
There's also a political element to this film. It is unashamedly queer, showcasing lesbian, transgender and BDSM sex without compromise. There's none of that crap long-nailed fake lesbian stuff here; we're talking fisting, strap-ons and plenty of pussy licking. You know, how real lesbians do it. The film also subtly makes a point about discrimination against homosexuality in sport. Not bad for a porn film.
Of course, it is still an explicit film that aims to turn the audience on, and it does that easily thanks to the barnstorming sexual performances of the cast. The dominant/submissive scene between Syd and Madison Young is intense but I also really loved the scenes between real-life lovers Syd and Jiz Lee, who bring an intimacy and sense of playfulness to their very sexy scenes.
The DVD also features some great behind-the-scenes interviews and footage. I can't help but admire the determination of Shine Louise Houston who personally built the boxing ring in a warehouse. Now that's hands-on filmmaking!
Champion is obviously a film made for lesbians but that's not to say that straight chicks (or guys) won't enjoy it. There's plenty here to get the juices flowing but perhaps the best thing is that you will perhaps be looking forward to the non-sex scenes in order to find out what happens next. That in itself is a rare thing for an adult film and makes this one well worth watching.
Starring: Syd Blakovich, Madison Young, Jiz Lee, Dylan Ryan
Director: Shine Louise Houston

Available From
Babeland: DVD
Reviewed February 2009