Urban Friction (2002)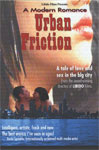 One of the frustrating contradictions about porn is that it is supposed to explore and inspire sexual fantasy and yet so much of it is often unimaginative and formulaic when it comes to the realm of the sexual imagination. We keep seeing the same thing repeated over and over; there's no real attempt to delve into the minds of the people we see fucking.
That's one of the many strengths of Urban Friction from Libido Films. This is an erotic movie that revolves around exploring sexual fantasies and it does an excellent job of illuminating the subject while arousing the audience.
The film tells the story of two lovers, Mika and Poochie, who have taken up exploring fantasies within their relationship. Poochie has already had his submissive dreams come true thanks to a joint visit to a dungeon, courtesy of his girlfriend. Now it's Mika's turn… and she wants a threesome with another guy.
Alas, Poochie is not so keen. Indeed, Poochie is not playing fair to begin with, given his predilection for shagging other women. Will Mika get her wish?
It's great to see a storyline that enhances the sex scenes, giving our couple a reason to get it on. One of the cinematic devices I enjoyed the most with this film was the insertion of black-and-white glimpses of sex while the main scene was occurring. This is to give the viewer a window into the mind of both Mika and Poochie as they fuck - we see the fantasies that are turning them on even as we see the physical workings of their lovemaking. So few films attempt this kind of psychological perspective and yet it's something we all do during sex.
Urban Friction is not your standard porn film. For a start it focuses mainly on Mika and Poochie so that one or both of them are in all the sex scenes as the plot requires. It's a nice change from the usual 5 scenes with 5 different couples and it feels a lot more realistic. The camera doesn't focus too much on closeups and the action is almost softcore but the viewer is given enough to know what's going on. There's a real concentration on the faces of the characters as they make love.
The acting is also great; these characters are believable and likeable. You want them to end up happily-ever-after. The cinematography and music are also well done; the film looks and sounds good.
For me the standout of this film is the final scene depicting a threesome between Mika, Poochie and her chosen third male lover. The focus is always on HER pleasure during this scene and there's also a hint of bisexuality which makes for a wonderful change. Those women who love this kind of MMF fantasy will be overjoyed with the extremely sexy way this scene plays out.
This was the second film from Libido Films, created by journalists Jack Hafferkam and Marianna Beck. Alas, their company is no longer operating so we won't be seeing any more excellent films from them. I would however, recommend checking out the other titles in their catalogue.

Available From
Gamelink: DVD or Download
Libida: DVD
Hot Movies: Download
Reviewed January 2010