Addicted To Niko (2007)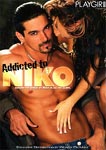 Playgirl have been churning out a movie a month for over a year now but I haven't reviewed any since Burning Lust, their second. Given that I thought Niko's appearance in that was good, I decided to check out their latest title.
The blurb for the film boasts of Niko's "massive personality" but I think it's fair to say that this is pure spin. Niko doesn't seem to have much personality to speak of in this film, beyond a certain egotism, but thankfully his good looks help to make up for it.
Put simply, Niko is gorgeous. The man works as a personal trainer and male stripper when he's not starring in porn films, and thus every inch of his body is perfectly tanned and toned. His face is chiselled and very easy on the eye, and he's got a butt they could hang in the Louve.
I'm keen to emphasise the eye-candy appeal of Niko in this film because that's pretty much the whole point of the movie, and it's main attraction. Addicted To Niko offers six sex scenes, all starring - you guessed it - Niko. The movie is actually a compilation of scenes from past features, so if you've been eagerly lapping up previous releases you probably don't need to see this one.
The scenes don't have any dialogue. In essence they're simply erotic scenarios wherein Niko gets it on with a thin, beautiful starlet. So there's sex with Niko in the Gym, sex with Niko in the pool, sex with Niko in the locker room when he's dressed as a footballer, sex with Niko on a rainy night... You get the idea. The set-ups are actually quite believeable and the actors interact well. The women often initiate the sex, but not in a porny way. Rather than the usual "I'm so horny" approach, these girls are a little more subtle. It's easy to believe they can't help but put the moves on Niko, if only because he's so good looking.
I got kind of bored after the second scene because each encounter is pretty much the same: there's some slow kissing, nipple sucking, fellatio, cunnilingus and then intercourse in 2 or 3 positions, usually missionary and doggy style. Then Niko comes on the woman's stomach or back. It's standard porno sex, with a lot of uncomfortable positions for the sake of the camera, and the women keep their shoes on. There's no rough sex or "circus acts" though, so I guess I should be thankful for small mercies. Indeed, most of the sex is quite sensual in its own way.
There was only one female orgasm that I could ascertain, and that was following some nice oral sex in a spa. My previous big complaint about Playgirl films was the lack of female orgasms and they don't seem to have made any big improvements on that score.
As with the previous Playgirl titles, everything looks seriously big-budget and is well presented. The camera sweeps across lush sets before drawing slowly along the flesh of the actors. There are occasional genital close-ups, but also just as many shots of Niko's face or body. The lighting is elegant and the skin tones are gorgeous. Indeed, everyone in this movie looks so perfect its like watching an erotic cosmetics commerical. The music isn't bad, although occasionally it seems a little incongruous.
I think this film is probably great in short bursts. Each scene needs to be watched in isolation from the rest, perhaps to de-emphasise the sameness of the sex. As a reviewer I'm probably a little too jaded to appreciate what's on offer here. To be honest I feel I'd like it more if they'd just try something different with the sex scenes. Oh, and make sure the women actually come.
Still, if you're after a bit of non-offensive eye candy to get you in the mood, you could do worse than dabble in a little Niko addiction.
Available From
Ms Naughty store: DVD
Gamelink: DVD
AEBN: Download
Reviewed September 2007