Ashley and Kisha: Finding The Right Fit (2007)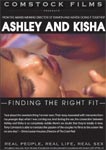 Long nails, fake tits and silly dialogue. That seems to be a standard when it comes to "lesbian" scenes in porn, along with fellating dildoes, an obsession with penetration and sex positions that don't seem to make a whole lot of anatomical sense.
You won't find any of those annoying porn cliches in Ashley and Kisha: Finding The Right Fit. Rather, you'll encounter the sort of lovemaking that regularly occurs in the bedrooms of lesbians all over the world. Yes, folks, this is real lesbian sex, and it's amazing to watch.
Ashley and Kisha is the fifth film from independent company Comstock Films, whose slogan is "real people, real sex." Tony Comstock and his wife make what are essentially explicit documentaries about individual couples, delving into their relationship via interviews and then peeking into the bedroom as they have make love.
Comstock's aim is to illuminate sex and showcase it within the context of love and intimacy. That's not to say the films aren't explicit or arousing; they're both. What makes them special is that the viewer's knowledge of the on-screen couples' relationship makes watching their sex scene that much more intense.
Ashley and Kisha are couple of young women who are very much in love with each other. They met at college, when Kisha was determinedly straight, and became friends. The interview reveals how Ashley set out to seduce her friend and how, despite reservations, Kisha was won over. Both girls are engaging to watch and they giggle conspiratorially together as they relate amusing anecdotes about their relationship.
The couple also share stories about their sex life, revealing individual quirks and tastes. They even talk about their first time using a strap on, which is interesting.
The sex scene itself is not "porny" at all. It's quiet, intimate and very sexy to watch. There's plenty of kissing and caressing, along with some serious cunnilingus and clit and g-spot stimulation. Ashley takes control and seems to take pride in giving Kisha pleasure; indeed, the whole scene pretty much focuses on Kisha's journey to orgasm. When it does come, it's quite beautiful to watch.
The whole thing is shot on film without any musical soundtrack. Thus you get lush visuals, soft, glowing skin and the normal sounds of lovemaking. The camera is not intrusive and the women don't perform any moves for the viewer's benefit. This means you won't see as many close-ups and some things are missed, but that's the price you have to pay for authentic sex. There is a nice emphasis on facial expressions that gives an added element of emotion and depth to the sex.
This film is a rarity in porn for two reasons: one is because it shows authentic lesbian lovemaking, as is, without catering to preconceived ideas about what the male audience would want to see. The other is because it depicts two women of color in a positive light, trashing all the usual racial stereotypes that so often infest movies featuring black women.
I've long been a fan of the Comstock films and this one is no exception. Once again, Tony and Peggy have delivered a sensitive, interesting and very erotic film, and it's one I highly recommend.
Starring: Ashley and Kisha
Director: Tony Comstock
Studio: Comstock Films
Available From
Gamelink: DVD
Ms Naughty: DVD
Good Vibrations: DVD
Reviewed July 2007