Playgirl's Burning Lust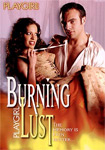 I must admit, I started watching this film with a large dash of cynicism. I'd seen Erotic Encounters previously and figured this movie would just offer more of the same.
Burning Lust is pretty similar, but it has a number of nice elements that make it better than it's successor. Despite myself, I rather liked this film.
The second production from the PlaygirlTV/Wicked partnership deals with erotic memories. The general theme is reliving sexy encounters and intimate moments, as recollection can sweeten the action.
This film consists of eight individual vignettes, each depicting a different sexual scenario. All the visual action is accompanied by a voiceover, setting up the scene and describing the thoughts, urges and emotions of the main character. I really like this cinematic device because it allows us to quickly get to the sex without skimping on plot or motivation. We get to hear why these women are having sex, what they enjoy, and what they are thinking while it happens. That's a vast improvement on most porn sex scenes.
The sex itself is very, very formulaic. We get fellatio, cunnilingus, two straight sex positions (often quite uncomfortable-looking) and a male cumshot, although at least there's no facials. The editing means we're not subjected to painful position changes, and the scenes themselves last a reasonable 10 minutes, but it's a pity there isn't a little more variety.
The biggest flaw with this film is the lack of female orgasms. There's only one scene where it's made explicit that the woman came - and that's only via her voiceover. It's such a shame, especially since Playgirl is supposed to be catering to female pleasure.

My thoughts on the individual scenes are:
18th Century Dinner - This is a period piece with a lovely set and costumes but I found it hard to concentrate due to the woman's atrocious set of fake boobs.
Film Noir - Two strangers meet in a back alley and fuck, and it's all in black and white. This scene has a well-constructed, moody atmosphere, and it has a bit of foot play, which makes a nice change.
Newsstand - A hot, wet night, and our heroine is on the prowl, shagging the guy at the newsstand (which sells lots of copies of Playgirl, incidentally). The whole idea of fucking in the rain is sexy, and this scene does it well.
Truck Wash - This scene originally made me laugh, because the female voiceover has a terrible Forrest Gump accent. I got over that, though, because I was treated to the glorious sight of a hose running over Jean Val Jean's body. Mmm, good looking guy. The sex is also quite passionate.
Diner Truck - A trucker gets it on with a waitress at 3am in the truck parking lot. Plenty of strange positions involving the fender, but not much else to recommend it.

At The Bar - This vignette is the standout scene of the movie for two reasons. Firstly, it offers us a black couple (wonderful!) and secondly, the voiceover is male. While most porn movies assume a male viewpoint, we never get to hear what a guy is thinking during sex. So it's fabulous to hear him say "I wanted to be inside of her, fucking her, staring down into those dark eyes…" The scene is set in a bar; the bartender seduces a customer. Very hot.
Blind Date - A woman is set up with a guy who her friends say is great in bed. The only problem is that he likes to whisper sweet nothings during sex. This is an interesting scene, especially since the guy looks directly into the camera as he speaks. I'm not sure if the writers were trying to make a point about clunky porn movie dialogue, but I really didn't think it was that bad. The voiceover suggests the guy will be good at cunnilingus, but then we barely get 30 seconds of it, which is disappointing.
After Hours - Two office workers fuck near the lifts at midnight. The guy is quite dominating, which is sexy, but the scene fizzles and ends with the guy masturbating onto her chest.
Overall, Burning Lust offers a lot of the same stuff you'll find in most mainstream movies. The difference is the voiceover, ensuring that things are told from a female point of view, and that's very welcome. The guys are also gorgeous, which is great.
If you're looking for a relatively simple hetero porno without any over-the-top sex and a bit of heart to it, you'll like Burning Lust.
Starring: Dominica Leoni, Jayna Oso, Jazmin, Jean Val Jean, Kris Knight, Marie Luv, Nick Jacobs, Nicole Sheridan, Nikki Hunter, Randy Spears, Sascha, Scott Styles, Tiffany Taylor, Tyler Knight, Vanessa Lane, Voodoo
Studio: Playgirl/Wicked
Available From
Ms Naughty store
Available to stream or download from Ms Naughty Adult Movies
Gamelink: DVD
Sex Superstore: DVD
Reviewed November 2006