Caribbean Heat (2005)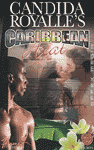 Caribbean Heat is the sixteenth film to emerge from Candida Royalle's Femme Productions, but Candida has taken more of a executive role in this one. The film is actually written and directed by newcomer Manuela Sabrosa, an emerging talent from Central America.
The film consists of five vignettes, each featuring hetero couples meeting up and engaging in some seriously hot sex. It's all set in the Caribbean, and the landscape almost becomes a character. When it's not lingering over sweaty bodies, the camera is sweeping across glorious beaches and silky sunsets. I was ready to call my travel agent by the end of this film.
Caribbean Heat offers slow, languid sex. In this film, foreplay and oral sex are the main course. The ladies all enjoy long episodes of cunnilingus from their men, which is a great touch. I love to see muff diving being given full attention in a film.
From the beginning, Candida's films have never shown a cumshot and it's always nice not to have to sit through the ubiquitous facial at the end of a scene. Interestingly, the film doesn't show anybody having an orgasm. It's assumed but not shown. This film is less about outcomes and more about the journey.
There's very little dialogue, but the viewer is easily able to pick up the plotlines and detect real emotional reactions between the players, something that shows wonderful directing, I think. All the actors are unknowns from Central America, and they do a great job. The guys are mostly good looking, and there's no boob jobs or awful makeup on the girls.
I did discover one thing while watching this movie: Do not watch porn when you're hungry. I got to the 2nd vignette where the couple order ceviche, one of my favourite Mexican foods, and that was it, I couldn't concentrate at all. Indeed, I was positively frustrated when they left the almost-full bowl of ceviche on the table so they could head upstairs for sex. Maybe I've watched too much porn…
Anyway, I recommend Caribbean Heat for a romantic evening in. It's slow and sensual, and sometimes it's good to stop and smell the roses.


Starring: Yinna, Rod Phoenix, Felina, Max, Paola, Danny Boy, Sol, Adrian, Spider, Nicole, Bruce, Susan
Directed and written by Manuela Sabrosa with Candida Royalle as Executive Producer and Michelle Capozzi as Producer and writer

Available From
Ms Naughty store
Available to stream or download from Ms Naughty Adult Movies
A more comprehensive review of this film appears at For The Girls!
Reviewed March 2006