Chemistry (2007)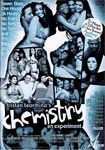 Writer and anal sexpert Tristan Taormino made her first adult film in 1999 - the Ultimate Guide to Anal Sex for Women (read our review here). In 2007 she re-emerged into the adult industry with her own production company, Smart Ass Productions and a deal with major studio Vivid. Her first new film was Chemistry - and it went on to win an AVN award for Best Gonzo as well as a Feminist Porn Award in Toronto.
The idea behind Chemistry is simple: take seven porn stars, put them in a house together for 36 hours, interview them, let them have sex any way they want and then film the result. Yes, it does sound rather like a certain popular reality TV show but Chemistry is much more interesting than that.
Tristan goes beyond what most gonzo-style "reality" porn films offer because she captures both the sex and the people involved, successfully giving the viewer a real idea of who the stars are, what motivates them and what turns them on. Getting to know each individual porn star makes for a fascinating journey, and it also makes the sex a lot more enjoyable to watch. Context is a big thing in this movie, so you know why people are having sex in a certain way. It gives the sex meaning, which makes it hotter, I think.
And Chemistry does aim to film hot sex, preferably spurred on by that mysterious thing called "chemistry" between partners. Achieving the right "cocktail" of personalities and desires is something of a tricky business, but Tristan seems to have pulled it off here. Every porn star in the house is keen to get it on with each other, to the point that they're at it like rabbits even before things have officially started.
The sex can get "porny" occasionally. The stars sometimes assume "porn positions", probably out of habit more than anything, and most scenes end with a "pop shot." There's ass-to-mouth, some slapping, deep throating and gagging in the mix, although the context can make this sort of thing more acceptable. A couple of times the girls seem to be faking it but more often their responses are genuine - including their numerous orgasms. I've said before - I like to see female pleasure in a porno and this film delivers in spades.
Despite these occasional "porny" incursions, the sex in this movie is quite different to what you'll see in a standard porn feature. The couples are allowed to talk to each other and laugh. They can choose how the sex progresses, thus avoiding that painful formula we see so often, and they can fuck in any position for as long as they want. There's also good use of sex toys and lube.
There's a number of non-standard sex scenes which are truly fabulous. Jack Lawrence goes down on Dana and licks her until she comes. There's no intercourse or cumshot or any of the standard cliches; just straight cunnilingus. Yes, it was a favourite scene of mine. After dark the stars get it on in their own time, and the scene is captured on "perv cam." I really liked it because everyone was relaxed and thoroughly enjoying themselves, rather than putting it on for the camera.
There's also a threesome where Mika and Taryn get Kurt Lockwood to bend over and enjoy a strapon up his ass, a scene that prompts some interesting discussion about the gay/straight divide within mainstream porn.
The interviews make for fascinating viewing. The stars talk about how they started in the industry, what problems they've faced, who they like and don't like and what gets them off. There's an amazing scene were Mr Marcus discusses the spectre of racism within the industry, all while receiving a blowjob from Dana. It's almost surreal - but sexy too.
The male stars are gorgeous, of course. I'm now a big fan of Jack Lawrence thanks to his avowed love of licking pussy (and his obvious talent). Mr Marcus is handsome and somehow very gentle yet spectacular in bed.
The girls are surprisingly likeable. I'm so used to seeing female porn stars act like bimbos for the camera that it's nice to go beyond that. Mika Tan comes across as the cheeriest woman in porn, Dana is likeable yet fragile and Marie Luv is sassy and very sexual.
I often watch porn films with the remote handy, ready to fast-forward the boring bits. Chemistry was different. I found myself growing increasingly engaged with the movie, eager to keep watching to see what happened next. By the end I felt like I'd made a whole new bunch of friends and I'd learned something as well.
Tristan Taormino has set out to make a very different kind of porn film - one that's engaging, female-friendly and arousing. While it does have its flaws, overall I'm very pleased with Chemistry and I would recommend it to female viewers.
Starring: Dana DeArmond, Jack Lawrence, Kurt Lockwood, Marie Luv, Mika Tan, Mr. Marcus, Taryn Thomas, Tristan Taormino
Director: Tristan Taormino
Studio: Smart Ass Productions
Available From
Ms Naughty: DVD
Gamelink: DVD
Sex Superstore: DVD
Babeland: DVD
You'll find another review of Chemistry plus an exclusive interview with Tristan Taormino at For The Girls.
Reviewed November 2007