City of Flesh 6: Lisa's Little Secret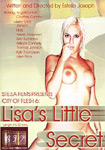 City of Flesh 6: Lisa's Little Secret is Estelle Joseph's sixth film, and the first one to feature an ongoing storyline, rather than individual vignettes. In this movie, Joseph aims to explore the issues of love, infidelity and what really constitutes "sex". I think it achieves these aims admirably.
The plot revolves around Lisa, who, after passionately making love to her fiance, reveals an indiscretion: she watched while an old college friend and her man had sex. Lisa, it turns out, had a few lesbian flings while young, and after a few too many tequilas, inhibitions are lost.
Lisa's fiance is upset and ends the relationship. The story then revolves around the idea of remaining faithful, even in the face of extreme temptation. I can't go into too much detail, because I don't want to give the ending away. Suffice to say that the story provides plenty of opportunities for hot sex scenes.
To give a brief rundown, there's a threesome with two guys and a girl, a lesbian scene, a hot couples scene, a short female masturbation scene and a male-female scene with anal sex.
For me one of the hottest moments comes near the start, during the original "infidelity" scene starring Ariel Summers and Thomas Johnson. This sexy black couple just explode on screen as Ariel frantically fucks her man. There's a gorgeous moment when she rubs her pussy all over his face as he's licking, taking control. The City of Flesh films often feature quality cunnilingus scenes and this one is no exception.
The anal scene is also well done. It's hot because it looks like things are done properly. No wincing is always a good thing.
Not all the sex is great. The girl-girl scene has a few too many porn cliches, and once again there aren't enough female orgasms to make me happy (but then my ideal is a woman coming every time, which seems pretty rare).
The acting is pretty damned good. Angelina Hart and William Connelly excel in their roles as the separated couple, and bring plenty of believeability and emotion to their performance.
This film does a good job at exploring the idea of a relationship in trouble - something we don't often see in porn films. It has a nice story arc and is pleasant to watch. The plot is interesting enough that you won't feel the need to fast foward the bits between the sex scenes.
Overall, City of Flesh 6 is a sexy film with plenty to recommend it to women.
Starring Angelina Hart, William Connelly, Ariel Summers, Thomas Johnson, Lucy Lucy, Elisha Winters, Courtney Cummz, Jemeni, Holly, Ashely Anderson, Kyle Thompson and Allen Price
Written and Directed by Estelle Joseph
Studio: Stella Films

Available From
Gamelink: Download
Also available to stream or pay-per-view at: Ms Naughty AEBN
Reviewed January 2007