Damon and Hunter: Doing It Together (2006)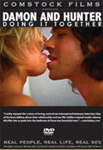 Tony Comstock's third "pornomentary" is by far his most ambitious. This time he takes his unique form of filmmaking into the bedroom of Damon DeMarco and Hunter James, two up-and-coming gay porn stars who are also very much in love.
As with his two previous films, Marie and Jack and Xana and Dax, Comstock starts his film with a probing interview into the life and love of this couple, intercut with brief glimpses of them having sex.
Thus we learn about how these two guys met, how their relationship developed at college, and what they like to do in bed. We also hear how they came out to their families, and their views on being gay.
Both men are very candid, and you can see how relaxed they are in each other's company – the gentle touches, the knowing smiles… it's all there. This is a real couple that are genuinely in love, and – as with all Comstock films – it's refreshing to know that these are people who actually want to have sex with each other on screen.
The sex itself is very hot. Damon and Hunter give each other expert blowjobs before Damon impales himself on Hunter's cock. Very little is said, but there's much kissing and fondling. It's readily apparent that each is eager to give the other as much pleasure as possible. The sex is raw at times, but never contrived or uncomfortable.
In the end the two guys masturbate together until they orgasm. We see their faces as they come, followed by the smiles they give each other after the event.
This was the first gay film I'd watched, and it was both fascinating and very arousing. Getting to know the two guys in the interview adds an extra emotional dimension to the sex. In this film you're not just watching two guys fuck, you're watching a physical expression of love. That's a very powerful thing to experience, even as an outsider viewing it through a TV screen.
Tony Comstock put a great deal of time, money and effort into this movie. He shot the entire thing on film and spent many hours editing the footage. It's now paying off: Damon and Hunter has sold extremely well and has already won several awards.
You don't have to be gay or into gay porn to enjoy this film. It crosses boundaries and defies easy description. It's not so much of a porn movie than a piece of art that turns you on. Forget your ideas about what kind of sex you like. Just watch this. It will entertain, fascinate and arouse you.
Starring: Damon and Hunter
Director: Tony Comstock
Studio: Comstock Films
Available From
Gamelink: DVD
Ms Naughty: DVD
Good Vibrations: DVD

Reviewed May 2006