Erocktavision: The Lesbian Couple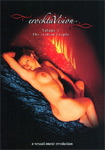 Imagine your average music video: quick edits, quirky camera angles and visual effects, all accompanied by music. Now imagine what it would look like if the video depicted women having sex with each other rather than, say, some rap singer showing off his bling. That would be something, wouldn't it?
Well, the creator of the Erocktavision series, lesbian filmmaker Dana Dane, did just that, and the result is a refreshing new type of porn. Erocktavision: The Lesbian Couple features two women making love in a variety of situations, accompanied by a variety of catchy electronic music.
In essence, this is a fairly simple film. It only features two women: Niki Clover and Cameron Cruz. The pair make love in the bathroom, on the stairs, on the couch. There's quite a lot of strapon use as well as "pussy humping" - which I could have done without, because I find it a bit silly, rather than arousing. We're also treated to plenty of passionate kissing and touching. There's a bit of cunnilingus, and a couple of nice female ejaculation scenes.
These two girls aren't your standard porn stars. Niki is quite thin but Cameron has a few more curves. There's no fake tits of giant fingernails, and no awful makeup. These chicks look natural and relaxed, and that's a good thing. They're also very much into each other, so the sex is hot.
This film is still "lesbian lite." There's no butch dykes here, or any overt sexual politics. It's not made exclusively for a lesbian audience, so guys and straight women who like girl-girl won't feel excluded.
Dane presents each sex scene using a variety of effects: slow motion, black and white, negative, sepia and so on. At times it can be quite engaging and gives the movie a "cutting edge" feel, but at other times it seems that the director got a little happy with the effects button.
The music is great. I'm not sure if it's electronica, dance or what, but the songs suit the film well and some even got stuck in my head.
Dane has since made 5 other Erocktavision films. I'm sure she's refined her methods in that time. The movies recently won the 2007 AVN award for Best All-Girl series. This would suggest that these films are no longer considered "alternative", although that's what they were tagged as for quite some time. Perhaps the award signifies that Dane's new and creative ways of presenting erotica will be become more accepted within the industry.

Starring: Niki Clover, Cameron Cruz
Director: Dana Dane
Available From
Ms Naughty: DVD
Gamelink: DVD or Download
Available to stream or download from Ms Naughty Adult Movies
Reviewed December 2006