Tristan Taormino's Expert Guide To Anal Sex (2007)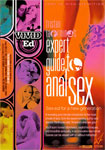 Anal sex is now a standard act in most porn films but far too often it's presented in a negative, sexist way that associates anal penetration with pain and submission. Female porn fans who enjoy watching anal sex are usually presented with titles like Dirtpipe Milkshakes, Anal Destruction and Wreck My Ass – hardly appealing to women who want to see female anal pleasuring.
This is why Tristan Taormino is a godsend. Tristan is, of course, the anal mistress, a sexologist who has long specialized in providing safe and sensible anal sex advice to the curious or buttsore. In 1999 she put her knowledge to good use, turning her bestselling book Ultimate Guide To Anal Sex For Women into an adult film of the same name, advising porn stars on the safest and most pleasurable ways to have anal sex and then joining in on the action (read our review here).
The Expert Guide To Anal Sex is her first film for Vivid Ed, a new line of educational adult films that seeks to combine sex information with quality hardcore sex scenes. Once Tristan takes on the instructor role in the film and she has also written and directed the movie.
The first part of the film takes the form of a workshop given to a small group of people. Tristan gets out the flip charts and sex toys, explaining anatomy and the proper techniques for buttplay. We also learn why anal sex is worth pursuing and how women can achieve orgasms via the butt.
We're then given a real-life demonstration of correct anal play by porn stars Lorelei and Ariel. These two good looking porn stars are both anal fans and happily show how to use lube, anal beads, sex toys and how to perform analingus (rimming). This is ostensibly a sex scene but it has Tristan standing by giving instructions so, while it may appeal to some fans of girl-girl sex, it's more educational than anything.
The tone changes a little when we get to the second bit of the film, which is made up of two full-on anal sex scenes. The four porn stars on hand are all into anal sex and both couples give seriously arousing demonstrations. In the first scene, Marcos spends a lot of time getting Ricki's ass ready for his cock, and there's a real gentleness to the sex that's nice to see. As things progress the action is occasionally paused and tips are displayed on the screen, giving suggestions as to the best techniques for safety and pleasure. The whole thing ends with Ricki's magnificent climax as she's impaled on Marcos' large cock.
Adrianna and Manuel's scene is the show stopper. These two throw themselves enthusiastically into the scene, using anal beads, sex toys and a lot of oral sex to prepare. These a lot more anal penetration here and Adrianna's orgasm is monumental. Tristan herself says it's one of the most spectacular climaxes she's ever seen. Adrianna ends up wrapped in Manuel's arms, which makes for a nice conclusion to a very hot scene.
Both sex scenes in the feature finish with the woman's orgasm – there are no cumshots as is standard in porn films. I really enjoyed this aspect of the movie, because it signalled that female pleasure was being given priority. The DVD does, however, allow the viewer to watch the sex scenes separately and without sex tips. These scenes do have a pop shot tacked onto the end.
Tristan interviews both couples before and after the sex, so we get an idea of who they are and what they like about anal sex. This element of context really helps to improve the scenes, because we the viewers have a better understanding of what's going on between the two partners.
The DVD comes with a couple of mini-featurettes. One is about safe sex and the other gives advice on enemas, which is strangely fascinating. There's also a great behind-the-scenes doco that has bloopers, extra snippets of interviews and other fun stuff.
Instructional porn films often tread a fine line as they're sometimes assumed to be "taster" products for those new to porn. In this case, the film is genuinely educational and offers some seriously good tips and information to those who want to have anal sex safely and enjoyably. On top of that it's also very hot. There are so few good anal scenes in porn where the sex is done properly and the women get off, so it's well worth watching just for that reason.
I recommend it.
Starring: Lorelei Lee, Ariel X, Ricki White, Marcos Leon, Adrianna Nicole, Manuel Ferrara, Tristan Taormino
Director: Tristan Taormino
Studio: Vivid
Available From
Ms Naughty: DVD
Gamelink: DVD
Babeland: DVD
You'll find an exclusive interview with Tristan Taormino at For The Girls.
Reviewed December 2007