Five Hot Stories For Her (2006)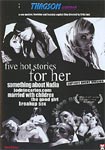 I've been waiting a long time to see Erika Lust's first feature film, ever since her short movie The Good Girl made waves a couple of years ago. Five Hot Stories For Her was released in Europe some months ago but we've been waiting a while for an English language version.
I'm pleased to say I've finally had a chance to review it and it certainly lives up to expectations. This film is a joy to behold and it ticks all the boxes - great acting, engaging stories, beautiful cinemetography and hot, hot sex.
Erika is a Spanish filmmaker with a degree in politics and feminism. She's long been an advocate for smart and sexy porn made specifically for women and this film is the realisation of her creative vision. I think she's done an excellent job of making an adult film that caters to female tastes.
The movie offers five individual stories, each a self-contained short erotic film. One of the wonderful things about this movie is that each story is allowed to unfold naturally. Plot is not anathema here; there's no rush to get to the sex. Instead we're allowed to meet the characters, assess their situations, find out what makes them tick - and what makes them horny.
There's also a delightful attention to erotic detail that many porn films miss. The ritual of undressing, the meaningful looks, the slow process of seduction. It's all here, but it's never dull. Every nuance adds to the sex scene and makes it much more exciting and worth savouring.
The stories and sex scenes feature a variety of acts. A more mundane description of the sex would mention that this film offers scenes of girl-girl, fetish, boy-girl, oral, threesome, one facial... and gay.
Yes, that's right. Gay. This film beligerently breaks down the paper-thin barriers that separate "gay" from "straight" in the porn industry and gleefully includes a full-on sex scene between two men. Two gay lovers who are breaking up, in fact, and fucking each other passionately for the last time. It's lusty and brash and very watchable, and I'm so glad it's in there.
The other stories are just as hot. Something About Nadia explores the awakening same-sex passions of three straight women and features a beautifully shot lesbian love scene - with two spectacular female orgasms. JodeteCarlos.com sets a MMF threesome within the context of revenge and yet still offers up a perfect female fantasy of being pleasured by two guys. Married With Children combines the everyday life of a married couple with some seriously amazing BDSM sex. This scene is probably my favourite as it does a fantastic job of capturing the illicitly glorious tension of sexual power play.
Erika's first film, The Good Girl, is also included, and it's a great story, one that subverts the old porn cliche of the "pizza delivery guy" and turns it into a tale of sexual and emotional awakening. The sex is extensive and very enjoyable - and our heroine's orgasm at the end is amazing.
The cinemetography in this movie is positively artistic, with lighting used imaginatively to bring out flesh tones and shadowy contrasts. The original music is great too; it some scenes it almost resembles something you'd find in a Hollywood movie.
Indeed, a lot of this film feels too good to be "just a porno". This movie is more than just spank material (although, rest assured, there's plenty here). It's also very watchable, offering five well-rounded stories with clear story arcs and interesting characters. The acting is great too. Most of this film's stars are European and some are well-known porn stars, but they're all very believeable in their roles and don't indulge in any frustrating porn cliches. And they're all amazingly good looking, which is always nice to see.
Overall, Five Hot Stories For Her is a magnificent film, one that really raises the bar within the porn for women genre and overall.
I recommend it!
Starring: Bobbi Eden, Ramon Nomar, Julia Taylor, Claudia Claire, Lucas Foz, Sandra G, Anthony Martinez, Lady May, Sonia Baby, Rafa Garcia, Eduardo Romo, Daniel Royter
Written and Directed by Erika Lust
Thagson Women/Lust Films
Available From
Lust Cinema: Membership
Good Vibrations: DVD
Hot Movies: Download
Reviewed April 2008