Handyman (2006)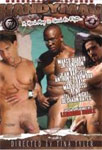 Undoubtedly there are a large number of women who enjoy watching male masturbation - there's something about peeking in on a hot guy jerking off that is undeniably hot. Despite this, the only films available featuring straight guys masturbating were made for a gay audience. Horny women wanting to watch a spot of wrist work had to make do with open butt shots and ocassionally creepy commentary from gay gonzo film makers.
That's all changed thanks to Tina Tyler and her Handyman series. These movies are unashamedly made for straight women with no concessions toward male viewers at all, and that's a big step forward.
Tina Tyler originally made her name as a porn actress throughout the 90s and became known as "the thinking man's porn star." She has since moved into directing and now helms a number of adult series for Lexington Steele's Black Viking company.
Steele was the one willing to take a risk and back Tina when she said she wanted to make a male masturbation movie for women. No-one else believed there was a market for it. Tina has since been proved right with the first film, Handyman, becoming a bestseller and being nominated for an AVN award.
This film offers up a veritable feast of hot male flesh indulging in self pleasure. Ten straight guys, some of them well-known porn stars, relax in front of Tina's one-woman production team and get down to some serious DIY sex. As they stroke their long, hard cocks they talk dirty to the camera, whispering sweet nothings about licking pussy and filthy fucking. This aspect of Handyman is quite unique - I've never seen it before - and it certainly ramps up the sexiness of the scene. As they come, the camera lovingly records the moment and recounts it in slow motion.
Tina also interviews the stars, asking them about their jobs and what turns them on. These vox pops are engaging and worth watching - it's nice to get to know the guy you've just been lusting over. They also give a few insights into the adult industry and into the production of the film itself.
The guys make up an interesting collection of eye candy. Most, but not all, are well built and handsome. Some such as Niko and Tyler Knight are well-known porn stars while others aren't so recognisable. Interestingly, quite a few are from Europe, which means that their dirty talk comes tinged with a distinctly sexy accent.
Between individual scenes we are treated to quick shots of Lexington Steele masturbating in the shower. These are tantalising but end up being a little frustrating because the shower door makes it hard to see his huge cock.
Handyman is best watched over time, one scene a day, perhaps. I watched the whole thing in one sitting and got a little restless after a while. There's only so much male masturbation you can watch in one go, I suspect.
My other complaint is that the camera mostly focuses on the guy's dick when he comes, rather than his face. There are a couple of scenes where we get to see the guy's expression but the majority offer up a standard cumshot. This is an individual preference, of course, and some women may enjoy that as-is.
The production values on this film are simple and elegant, which is not surprising considering that Tina did all the camerawork and directing herself. The sound isn't great for a couple of scenes but that's a small quibble. The music is mostly techno and not too intrusive.
All in all, I liked Handyman, especially the way the guys talk dirty. It really does ramp up the eroticism of watching guys jerk off and includes the female viewer in a way most porn films don't. I recommend this movie to fans of hot straight men stroking cock.

Starring: Lexington Steele, Joey Ray, Anthony Hardwood, Mario Rossi, Tyler Knight, Marco Banderas, JR Langdon, Jean Baptiste, Deshaun Hayes, Niko, Reno
Director: Tina Tyler
Studio: Black Viking Pictures
Available From
Ms Naughty store: DVD
Gamelink: DVD
Note: This film is often included in the "gay section" of online stores.
Reviewed February 2008