Matt and Khym: Better Than Ever (2006)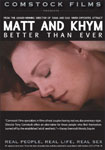 Matt and Khym is the fourth documentary-style adult film from independent producers Comstock Films, and I'm pleased to say it's just as good as its predecessors.
Comstock's ideal of presenting real people and real sex is relatively unique in the adult industry and entirely welcome. His films aim to present sex within the context of a relationship, and to show the audience just how meaningful and beautiful good sex can be.
Like the previous movies, we meet two good-looking people who are in love - Matt and Khym. This couple, now in their 30s, have been together since their teens and have endured numerous life events that meant they spent years caring for others. Now they've finally got the house to themselves, and they can't keep their hands off each other.
Matt and Khym are quite obviously in love. They finish each other's sentences, kiss and touch while they talk. It's obvious that their passion for each other hasn't dimmed over the years. When they talk about how they have sex, and what turns them on, you can see that they just can't wait to get into bed and act it all out.
I found myself nodding along, empathising with some of the things they said. If you're in a long-term relationship, you may find echoes of yourself in this couple. They're very ordinary in a lot of ways, and that's reassuring. So much porn can leave the viewer feeling inadequate, or unattractive. That won't happen here. Matt and Khym could be the couple next door. In a way, they're a beacon for garden-variety heterosexual sex, showing the world that sex in the suburbs can still be pretty fabulous.
The sex scene itself gives us a "peek into their bedroom" as Khym says. The pair pleasure each other with an ease and intimacy born of long practice, but it's not in any way staid or routine. There's real lust on display here, and the sex is certainly hot. Khym comes several times, and Matt reaches his climax inside her.
You won't see any porn cliches in this sex scene. This couple don't do anything extraordinary or outrageous, but that's a good thing. What the viewer sees is an ordinary couple having joyous, happy sex, revelling in each other and lost in the moment. They both seem totally oblivious to the camera; there's no acknowledgement of the audience. There's also no music to cover the sounds of their lovemaking. The scene is entirely natural and very pleasant to watch.
The sex scene was shot on film and mastered in high definition. Tony Comstock has said he prefers film to video because, despite the cost, it just makes sex look better. I don't think I can argue with him on this point. It does look very good indeed.
Porn very rarely deals with the idea of sex within the context of a long term relationship and that makes Matt and Khym unique. It offers an open and honest look at two people who are still hot for each other, and whose sexual relationship has been enhanced by time and hardship.
Watching this film is a positive, empowering erotic experience. I'd go so far as to say it's a work of art, and one that deserves an audience. I recommend it.
Starring Matt and Khym
Directed by Tony Comstock
Studio: Comstock Films

Available From
Gamelink: DVD
Ms Naughty: DVD
Good Vibrations: DVD