French erotic film director Ovidie was originally anti-porn in her feminist views. In 2000 she decided to appear in an adult film to experience the exploitation she thought was inherent in porn. Instead she discovered far more nuance than she expected - the female performers had agency, were often happy in their work and were treated well.
Ovidie then embarked on a career as a performer - appearing in over 30 erotic films - until she moved behind the camera and began to direct. Her work has won numerous awards and has been acclaimed for the artistry and feminist ethos that Ovidie brings. She currently makes films for the cable TV channel FrenchLover TV.
Ovidie has said she doesn't specifically make films for women, she just wants to make movies for everyone to enjoy.
Note: All of Ovidie's films are in French. Some are subtitled.
Pusion (2014)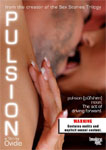 Winner: Best Direction, 2015 Feminist Porn Awards
The blurb: After completing the final installment of her best-selling Sex Stories trilogy in 2013, controversial French director Ovidie returns with her provocative new film, Pulsion. She explores the concept of sexual addiction, following the story of one woman's attempt to cure herself of this condition. As always, Ovidie combines a French arthouse sensibility with explicit sexual content, telling her story from a feminist perspective.
Stars: Emy Russo, Angell Summers, Tiffany Doll


Available From
Lust Cinema: Membership
Amazon: DVD
Infidelite (2010)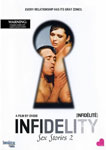 The blurb: Where do you draw the line?

In the follow up to her wildly popular erotic odyssey Sex Stories, Director and well-known sex-pert Ovidie weaves together multiple stories that explore the gray zones between relationships and infidelity - as seen from a female perspective:

As his 50th birthday quickly approaches, Alban is afraid he is losing his sex appeal. He finds sexual fulfillment and solace in Sylvia, a 25-year-old who believes she can make Alban leave his wife...

Adulterous Patrick believes he has the perfect hookup: Aline, a young woman afraid of falling in love who believes sex is only possible outside the realm of love...

Jean-Marc, a nymphomaniac, and his wife decide to open up their relationship to compensate for Jean-Marc's unfaithful ways...

Three couples, three different stories, three ways to overcome infidelity - all of which lead us to question our conception of couple, love, loyalty, and - above all - sexual relationships.
Stars: Nomi, Rebecca Lord, Delfynne Delage, Grazielle, Tania Ritz, Bruno SX, Rodolphe Antrim, Pascal St. James, Ricky Mancini

Available From
Lust Cinema: Membership
Ms Naughty: DVD
Sex Stories (2010)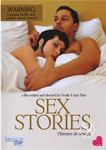 The blurb: In the vein of groundbreaking films like Shortbus and 9 Songs comes SEX STORIES, a lighthearted exploration of the many pleasures, quirks, and follies that inhabit people's sex lives.

Two lively dinner parties unfold - one for a group of female friends, the other for their male counterparts. At each soiree, the conversations quickly delve into the characters' recent sexual escapades. With comic subtlety, the film captures the many contrasting views about what it means to be a good lover.
Stars: Nomi, Sebastian Barrio, Phil Holiday, Milka Manson, Lou Charmelle, Eliska Cross

Available From
Ms Naughty: DVD
Histoires De Sexe(s) (2009)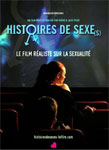 The blurb: Written and directed as a collaboration by both a man and a woman, Histoires de Sexe(s) is a wry look at sexuality - and how differently the two sexes view it. Through the course of a dinner, one held by Jean-Phillipe with his guy friends, another by Agathe with her gal pals, the eight people recount their recent experiences, trysts, conquests, and affairs in the most realistic terms. Go on a journey with the characters through the many joys and failures of life, romance and sex and see just how different the two points of view can be between a man and a woman.
Stars: Lou Charmelle, Nomi, Judy Minx, Milka, Eliska Cross, Lavandra, Kennya, Sabrina Sweet, Phil Hollyday, Ricco Sebastien, Barrio Dino, Toscani Phillippe, Duroc Klement, Leeloo

Available From
Lust Cinema: Membership

Orgy In Black (2001)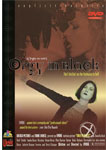 This is the first film Ovidie directed, making her the youngest porn film director in Europe.
The blurb: Edouard and Ursala are addicted to the fast lane. Always looking for stronger thrills, they decide to explore a haunted cemetery. They have hardly enough time to satisfy their animal desires, when they are captured by a small cult of the living dead. Now sexual slaves, they are forced to obey the twisted fantasies of the Queen of the Dead. From now on, the couple has only one obsession: escape the prison of this debauched and unholy cemetery. And in their futile attempts, they may just unearth the most startling mystery of all.
Stars: Kristina, James, Marc Barrow, Daniella Rush, Karma, Bruno Sx, Titof, Sandra Russo, Barbara Flores, Ovidie, Melinda Gall, Reda, Christopher Lee, Diosa, Juliette Dragon, Severain

Available From
Ms Naughty: DVD