Pirates (2005)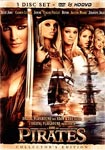 Pirates is the Titanic of the adult industry. To date it's the most expensive porn movie ever made, rumoured to have cost over $1 million, although it's now a major bestseller. It's the result of an historic partnership between two mega porn studios and features a bevy of top porn stars. The music, wardrobe and sets are spectacular, and the movie features over 300 special effects shots.
And yet, despite all this, it's a bit ordinary, really.
Of course, this is the view of someone who has seen far too much porn for one lifetime, and who's a bit jaded by it all. If you're just looking for a bit of eye candy or stroke material to liven up your evening, Pirates may do perfectly well.
The film has a complicated plot involving kidnappings, secret maps, lost islands, Inca artefacts and computer generated skeletons. I'm not going into it any more than that, other than to say I found the plot to be the best part of the film. I actually ended up fast forwarding the sex scenes so I could find out what happens next.
It's all very silly of course, and a lot of it is played for laughs. Evan Stone proves himself to be a tolerably good actor, rattling off one liners and hamming it up with glee. Indeed, I thought he made it all worthwhile.
The other stars aren't so good at acting, even if they do look impressive in bandannas and black mascara. The dialogue is sometimes quite literary, but it doesn't sit well in the mouths of porn stars.
Beyond that, it's all extremely familiar porno territory. The sex scenes are very formulaic and include facial cumshots, deepthroating and spitting. I found the three girl-girl scenes to be extremely awful, partly because they engage in all those stupid cliches (what IS it with that vulva-on-vulva humping thing? Has any woman EVER had an orgasm that way?) and partly because things get nasty, with slapping, choking and spitting. It's like someone wanted to see mud wrestling or something.
The women are all Barbie dolls, complete with bleached blonde hair, horror boob jobs and Botoxed lips. Don't expect any historical authenticity in this film.
The special effects tend to resemble computer game graphics rather than what we're used to in mainstream movies, but given this is a porno, they're really not too bad.
This film is probably the best of its genre, but I still didn't think it was that great. I guess the problem is the genre itself, not the film. Big budget porn from the major studios is still relying on sexual cliches, and that's unfortunate. It means that if you want to watch sex that resembles the kind of thing normal people have in their bedrooms, you won't find it here. Pirates all showbiz and formulaic fucking.
Still, it's nice to have a porn movie that doesn't look like it was shot on Beta in a basement somewhere. Perhaps if the industry is willing to put this much effort into a film, they might try and improve the way it constructs sex in the future.
Starring: Austyn Monroe, Carmen Luvana, Devon, Evan Stone, Janine, Jenaveve Jolie, Jesse Jane, Steven St. Croix, Teagan Presley, Tommy Gunn
Director: Joone
Studio: Digital Playground
Available From
Gamelink: DVD
Sex Superstore: DVD
Ms Naughty: DVD or Blu Ray
Good Vibrations: DVD
Reviewed October 2006