Candida Royalle's Under The Covers (2007)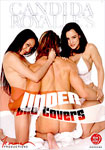 Under The Covers, Candida Royalle's 18th adult film for women is, in essence, a film about discovery. It's about peeling back layers and finding something new. Through scenarios of sexual exploration and enlightenment the protagonists uncover new emotions, desires and experiences.
The film deals with the adventures of a journalist (Lisa Ann) looking to write about "modern day aphrodites", women who work within the sex industry or who deal with sex on a regular basis. Naturally this is a handy plot point for bringing together a disparate selection of erotic scenes, but it's not altogether unpleasant to follow our heroine around as she probes her subjects and becomes entangled in their lives.
The film begins with a young straight couple filming themselves having sex - a first for them. The sex is romantic and quite sweet, with a real sense of intimacy involved. The use of the video camera is quite clever here, as we switch between the standard film vision and the man's point of view as seen through the handycam.
After this we meet their sex therapist (Sativa Verte) who, as it turns out, has quite a thing for large cocks (and giant blue dildos). She can't help but hook up with a well-hung stud (Primo) via the internet and indulges in some fairly lusty lovemaking on the floor with him. Primo makes for some lovely eye candy in this scene.
We also encounter a born-again Christan (Erika Kole) who discovers the wonder of sex toys - by trying out every single vibrator in the back room of the adult store where she works. It's quite a hot scenario, although one can't help but think there's a bit too much product placement going on. And here's hoping she locked the door.
There's also a scene involving bondage mistress (Syren) who discovers the joy of being topped in a rather ferocious girl-girl encounter with Mariah Ritani. The final scene is at a masked sex party where our heroine indulges in some seriously wonderful group sex before uncovering the most startling secret of all.
Under The Covers is the first film Candida has directed in five years but it's just as solid as her previous efforts. She was joined in this endeavour by Playgirl columnist Jamye Waxman, who co-wrote the film and has a non-sexual starring role as the surly dungeon secretary.
The movie has all Candida's hallmarks - beautiful cinematography, a sense of humor, intimacy and romance, female orgasms and - of course - internal cumshots from the guys. The plot may be a trifle disparate but it holds together well enough and the sex is good fun - especially the final scene.
The Femme films are often criticised for being too "soft focus" and it may be that female fans of serious hardcore won't enjoy this movie. Still, I don't think that's a problem. Under The Covers is aimed squarely at straight women who want a good quality adult film with a touch of kink, but nothing too extreme, and it delivers that perfectly.
Starring: Syren, Lisa Ann, Sativa Verte, Erika Kole, Mariah Ritani, Jamye Waxman, Michele Capozzi, Richard Range, Primo, Charly Carlyle
Director: Jamye Waxman
Studio: Adam and Eve Productions
Available From
Ms Naughty store: DVD
Gamelink: DVD
Sex Superstore: DVD
Hotmovies: Download
Reviewed April 2007