The Bi Apple (2007)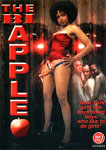 The Bi Apple is a new brand of adult movie, one that aims to be "pansexual"; that is, it wants to cater to a sexually broad audience, one not bound by traditional "niches" or kinks. It aims to appeal to women as well as men, to gay and bi viewers as well as hetero ones. This film situates itself somewhere along Kinsey's fluid scale of sexuality which makes for a nice change.
Best of all, though, it aims to cater to people with more intelligence and maturity than a 14 year old boy, something that, let's face it, most adult films don't do.
Set in New York City, it follows a sex researcher (Simone Valentino) as she investigates the rather complicated lives and loves of a small group of sexually diverse people. They all meet at "The Fuck House" and - naturally - proceed to have sex all over the place. These people aren't the slightest bit worried about getting it on while a woman takes notes, and their tastes are all quite varied.
For those who want the down-and-dirty specifics, this film offers five sex scenes: a male-female straight sex scene, a male-female pegging and masturbation scene, a lesbian scene, a male-male scene (with female masturbation thrown in) and an MMF threesome at the end.
For me the highlight of the film is the pegging one starring real-life couple Trixie and Tucker. This couple normally makes their own amateur porn and publishes it via their stable of websites. This was their first adult film, but you can see they're very good at what they do. The sex is pretty damned hot and has a delightful intimacy which is a pleasure to watch. Tucker is a guy who enjoys a dildo up his ass and it's great to see this kind of sex without all the usual femdom crap that porn normally attaches to pegging. Trixie makes use of a wide range of toys and her orgasm is pretty hot. We even get to see Tucker lick his own cum off her breasts. Unusual and very erotic, I must say.
The other scenes aren't bad, although the very first one starring Mariah Ritani feels too "porny" for the rest of the film. The threesome starring Simone at the end is quite enjoyable to watch.
All the actors in this film have normal-looking bodies. There's no fake tits and no overly-buffed muscles which is nice to see. Simone Valentino is just gorgeous and, while her acting isn't spectacular in this film, she still carries the lead role well.
One of the best things about this movie is it's sense of humor. The sex scenes are interspersed with small snippets of dialogue that poke fun at cliched porn and the adult industry in general. It's refreshing to see this new perspective in an adult film, especially one produced by major studio Adam and Eve.
The Bi Apple is the first film directed by author and sex educator Audacia Ray. Ray is part of a close-knit circle based in New York, one that comprises many well-known names in the industry including authors, bloggers and filmmakers. Ray has shown herself to have a good feel for creating edgy, engaging erotica and I think that, given a bigger budget, we will be seeing more great things from her.
The Bi Apple isn't specifically a movie for women but I do believe it's one that women of all sexual orientations will enjoy and I recommend it.
Starring: Simone Valentino, Mariah Ritani, Tasty Trixie, Josh Tyler, Marci Tucker, Lee Antonio Rodickuez
Director: Audacia Ray
Studio: Adam and Eve
Available From
Gamelink: DVD
AEBN: Download
Hotmovies: Download
Reviewed March 2007