Cabaret Desire (2011)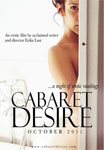 I've long been a fan of Erika Lust's work and her latest film confirms her status as one of the brightest stars in the new wave of porn for women. This movie is, to put it mildly, brilliant. Certainly it's streets ahead of most adult films in terms of production values, ambition, realism and hotness.
What makes this movie really shine is the storytelling. A well-told erotic story is what lies at the heart of the whole enterprise and it relies on clever narration as its main plot device.
Cabaret Desire uses the framing device of the Poetry Brothel, an ultra-hip suburban bar where people pay "poetry whores" money to hear sex stories. Thus four different patrons hand over their tokens and we're invited to listen in on their four separate vignettes.
The first tells of a woman having a dual affair with a man and a woman, both of whom are called Alex. Via clever double shots and repeated use of the same camera angle, we see the lusty interactions play out as our heroine fucks her male and female partners. It's cleverly done yet also emotionally intriguing. The story leaves you satisfied and yet wanting more.
The other three tales are just as good; the second sees an artist tying up and seducing an author in order to steal something from him. The third story has a woman turning 30 and celebrating with a rather good looking (and erect) gift. The last involves g two people meeting for a date and it delightfully depicts all the uncertainties and self conscious moments that accompany such a moment.
The stories draw you in with their interesting characters and fun scenarios. There's none of the usual porny setups here. The stories are about sex and relationships but they aren't just excuses to put people in bed together. There's a real attempt to get ideas across, to involve the viewer and make you want to know how it ends.
The sex in this film isn't softcore but it's not necessarily over-the-top either. There's enough shots of genitals to keep you happy while still focusing on facial expressions and small details like fingers and toes. It's also realistic and has a real feel of intimacy. The partners in each scene are clearly having fun and connecting with each other. One scene features a certain amount of fetishwear and has BDSM overtones but the rest is mostly hetero vanilla sex.
The performers are all natural-looking and are quite good at acting. The filler scenes at the Poetry Brothel feature actual poetry whores from the New York salon and their dark, smoky hipness add to the whole indie vibe of the film. There's even a couple of songs just to add variety to the mix.
As with her previous films, Cabaret Desire is a joy to watch. The cinemtography is equisite, shot as it was with digital SLR cameras. Lighting is perfect as well. I also love the way this film has been edited together. The sex scenes are never boring. There's no lingering on one position or one shot. We get the idea and then things move on.
I think this is a "must watch" film for anyone who wants to see quality erotica done properly.
Available From
Lust Cinema: Membership
Gamelink: DVD
Ms Naughty store: DVD
Good Vibrations: DVD
Reviewed December 2011