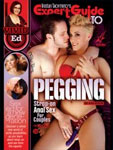 Starring: Christian XXX, Dylan Ryan, Jada Fire, Jiz Lee, Mickey Mod, Wolf Hudson
One of the unspoken rules of mainstream porn is that the male porn stars are not allowed to be vulnerable. They must be steady, athletic, have endless stamina and they must always rock hard. Tradition also demands that the men be in control, lack emotion and be sexually dominant.
Tristan Taormino's Expert Guide To Pegging stands out precisely because it ignores all these rules. And that makes it wonderful.
If you don't know the term, pegging refers to a man being anally penetrated by a woman wearing a strapon, an act which both partners enjoy. That means this film is all about men being vulnerable while being pleasured by a woman and the focus is on the man as receiver, not giver. It's still a rare thing to see in porn.
This movie breaks another taboo by messing with the male ass. It ignores the mistaken cultural idea that a man taking it up the ass must be gay and instead embraces the idea that a man's ass is a seat of pleasure (as it were), ripe for stimulation - especially because the prostate is in there.
Done properly, anal sex is a fulfilling activity that can add variety to heterosexual sex and it's also a very egalitarian sex act; everyone has a bum and everybody can be fucked that way. This film does a good job of portraying that equality, along with the communication, intimacy and understanding that is a prerequisite of good anal sex.
The film follows the tried-and-tested formula established by Tristan in her other Vivid-Ed films: she starts the film by giving a lecture on the ins and outs of pegging - anatomy, technique, positions, strapons, harnesses, sex toys, lube. This is illustrated by short snippets of sex. Tristan knows her stuff and she always teaches me something new.
Then we get to see three couples have sex in full, demonstrating all aspects of pegging. Dylan Ryan and Wolf Hudson share a fantastic scene at the start, made notable by the fact that this is Wolf's first anal scene. In the past he's done "gay for pay" and considers himself a "sexualist" rather than either straight or gay, but he's always been a top. In this scene, he opens himself up to Dylan's skilful strapon abilities and learns to enjoy being fucked. There's a lot of care and communication in this scene; Dylan constantly asks Wolf how he's feeling and if he's OK. This is a wonderful example of why it's so useful to talk about what's happening while fucking, especially for the first time.
Dylan actually has several orgasms while she's fucking Wolf before they revert to more traditional penis-in-vagina sex and then anal (on Dylan's part). She comes again, helped along by a Hitachi Magic Wand before Wolf finally gets to climax.
The second scene features genderqueer stars Jiz Lee and Mickey Mod. This scene illustrates an interesting fact about pegging - that a guy can lose his erection but it's not a problem. It's so rare to see a flaccid cock in porn, so once again this film breaks taboos. The pair fuck in various positions before getting each other off in the shower.
The third scene stars well-known mainstream star Christian XXX and Jada Fire. Christian is one of the few "officially straight" male porn stars who is willing to enjoy anal play and it's nice to see a guy so comfortable with his body and his sexuality. He's the only one to come while being pegged.
All the scenes are quite long so if you're the impatient type you may want to use the fast-forward button occasionally.
The film features good production values and was shot in a lush LA mansion so it all looks great.
Pegging is still considered a "niche" activity and if you're after a bit of straight-up vanilla sex this might not be for you. But if you want to learn more about male anal play and watch a film that isn't afraid to break taboos while showing caring, hot sex, you'll love this film.


Available From
Ms Naughty: DVD
Gamelink: DVD or Download
Good Vibrations: DVD or Download
Hot Movies: Download
AEBN: Download