Real Life Couples
Indigo Lush is the media company owned by me, Ms. Naughty. My films are aimed primarily at straight women and couples. I make feminist, ethical porn that focuses on the joy and fun of sex. I also make short films dealing with sexuality. This is a bit of a self-promotional page: I run the Porn Movies for Women site along with numerous other websites :)
All Indigo Lush films and scenes are available to download from Bright Desire.
Find out more about Indigo Lush here.
NOTE: This page is very out of date. I have heaps of short films, you'll find them all at Bright Desire
The Fantasy Project (2014)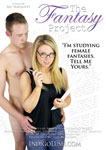 Nominated for a Feminist Porn Award, 2015
Here it is, my first proper feature film! - Ms. Naughty
The blurb: Kate Eden's research into female sexual fantasies leads her deep into the erotic imagination of women, a lush world of pleasure without consequences. Her subjects reveal a list of secret desires:  a threesome with two men, a magic room with a male slave who exists only to give pleasure, a full service massage complete with cunnilingus, and a dark exploration of submission and group sex.
Her research is fascinating, arousing and all-consuming. But will Kate's passion for her work lead her to lose herself – and her relationship?
Starring: Madison Missina, Ryan James, Kara Dasha, Devon, Vivienne L., Harley, Max, Marina Lee, Xavier, Rob Paulson, Jack, Steel, Aeryn Walker, Rex.
(This film includes four separate real-life couples!)

Available From
Bright Desire
Connections (2013)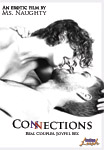 Honorable Mention, Feminist Porn Awards 2013
The blurb: Connections celebrates all that's great about sex: passion, laughter, teasing, giving, receiving, & experiencing real pleasure. It's about the connection that happens between two people when they have good, hot, fun, joyful sex.
Connections contains three vignettes starring real-life couples along with post scene interviews.
Starring: Aeryn and Theo, Leah and Mal, Kara and Devon

Available From
Bright Desire

The Thought Of Her (2012)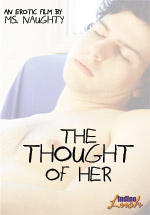 The blurb: Four men individually indulge in a quiet moment of solo pleasure. As each man strokes his cock, we hear his inner monologue. We share his thoughts about a woman, the images he conjures and the longing he feels.
The pleasure builds to a crescendo and we witness his orgasm, the culmination of his inner fantasy.
The thought of her is what drives him to seek this pleasure.
Nominated for a Feminist Porn Award 2012.
Starring: Vince Velvet, Jes, Theo Dalton, Adam

Available From
Bright Desire
Pink Label VOD: Streaming