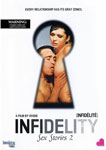 Starring
Nomi, Rebecca Lord, Delfynne Delage, Grazielle, Tania Ritz, Bruno SX, Rodolphe Antrim, Pascal St. James, Ricky Mancini
Written and Directed by Ovidie
Winner, Film of the Year, Feminist Porn Awards 2013
It's a cliche that infidelity is a French national sport although research has shown that the French are no more likely to cheat than other people. What's different, of course, is their relatively relaxed attitude to the issue.
Ovidie's most recent film Infidelite depicts that laissez-faire approach but also delves deeper into the issue, studying the complexities of long-term monogamous relationships with humour and compassion.
Ovidie began directing porn films at age 21 and now has 11 films under her belt as well as a long career performing in front of the camera. She has won several awards and become known for her feminist and female-friendly approach to porn. All of her films are in French which means she isn't as well known in English-speaking countries; it's certainly why it took me so long to see one of her films. Thankfully she sent me a subtitled version for review.
Infidelite tells the story of three couples and the impact that cheating has on each of them. Alban has just turned 50 and is having an affair with a woman half his age. His friend Patrick is having regular flings thanks to anonymous internet hookups. Meanwhile, Jean-Marc's wife lets him have sex with other women once a week, on Thursdays. Naturally the path of infidelity never runs smooth and things become complicated as it becomes apparent that the wives - and lovers - aren't as naive as the husbands hope they are.
The plot is far more complicated and nuanced than most porn films and there's plenty of quality dialogue and impressive acting to back it up. Naturally, this made me love the film as I'm more than a little jaded by porn and eager to watch anything that will sustain my attention. The storyline means that every sex scene is backed up by circumstance and emotion: we know why people and fucking and we know what they're feeling as they do it. There's a real mix of lust, regret, love and anger on show in this movie and that means the eroticism is ramped up a notch.
The sex is heterosexual, with rather a lot of blowjobs, although the women get to enjoy cunnilingus as well. There's even an anal scene, although it's so subtle you might miss it. The scenes are filmed differently to your usual LA porn. There's lingering shots of the performer's faces, artistic closeups and a real focus on emotion. It's all beautifully lit and well shot so it's a joy to watch.
One of the best things about Infidelite is the way it celebrates women's sexuality. Ostensibly it's a film about men who cheat and the guys in the film are happy to buy into the old double standards about how they can't help it because they're male, believing that their wives wouldn't be interested because "that's just how women are." Ovidie lets us know that yes, women are horny too and not the fragile creatures the men assume them to be. This complexity of character in the women means that the story goes in unexpected directions and makes for a very satisfying emotional journey. It also creates gentle moments of humour along the way.
I really enjoyed this film and I recommend you seek it out.
Best for women and couples to enjoy together.
.Available From
Lust Cinema: Membership
Ms Naughty: DVD