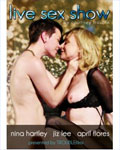 Starring
Kimberly Cline, Jolene Parton,  Peter Devries, April Flores, The Matador, Tina Horn, Roger Wood, Nina Hartley, Jiz Lee, Courtney Trouble.
Directed by Courtney Trouble
A few years ago I attended a Live Sex Show in Amsterdam, having previously visited one of the "coffee shops" for a particularly tasty brownie, like you do. My spouse and I paid far too much money and crowded into a tiny theatre with a bunch of backpackers and waited to see two people having sex on stage.
It was uniformly awful. The whole thing was choreographed to within an inch of its life, the woman looked bored to death and the guy was very unattractive and had an attitude problem. Everyone in the audience, previously whooping and cheering at the warm-up strip acts, went quiet. It wasn't the slightest bit arousing or sexy and I think we all left feeling a little diminished for having been there.
I mention this because I've now seen Courtney Trouble's Live Sex Show and I really wish I'd paid through the nose to have seen that, rather than the Amsterdam thing.
This film documents an actual live sex show that that is positive, interactive, amusing and really very hot.
The movie was made during the Masturbate-a-thon event held every year at the Centre for Sex and Culture in San Francisco. Director Courtney assembled a small crowd in a single room and then had numerous couples have sex on a small couch in front of the audience, filming the action. The result is an entertaining bit of erotica that also raises questions about the performative nature of porn.
When people have sex for a camera or a live audience, the dynamics of that interaction necessarily change. Things become choreographed and how things look becomes almost as important as how things feel. In this film, the performers are aware of being watched and it no doubt turns them on. It also changes how some of them go about fucking; there's interaction with the audience and we see an erotic engagement that goes beyond the immediate partner. The fourth wall is broken and the crowd becomes part of the performance. Apparently the audience had the option of going off for a quiet wank if they found it necessary.
The film features six scenes with a diverse array of performers, orientations, identities and sexual tastes. This reflects Courtney Trouble's queer perspective and it means that this is a film with a lot of variety that rarely gets boring.
First up we're treated to a solo strip act and masturbation scene by Kimberly Cline, cheered on by the audience. Then there's a hetero pairing between real-life partners Joelene Parton and Peter DeVries. This couple become lost in each other as they fuck, only acknowledging the audience after they've both come. As you can imagine, I enjoyed this scene a lot.
The scene immediately after provides quite a contrast, as plus-sized porn star April Flores puts on a very "porny" show for the camera and audience, masturbating in lurid fishnets and then giving a masked man (The Matador) a messy blowjob before fucking him.
After that Tina Horn gets it on with Roger Wood, a trans guy wielding a strapon. They set up a power play scenario with Roger as the dom and engage in lots of loud and vigorous sex, both clearly having a great time. They finish their pre-planned scene but the audience wants more so they keep at it until Tina has another massive orgasm.
The standout scene features legendary porn star Nina Hartley and genderqueer performer Jiz Lee. This is truly wonderful to watch because they both really engage with each other and with the audience. Nina fists Jiz and gives Jiz multiple orgasms via her hand, fingers and the Hitachi Magic Wand. Then Jiz returns the favour. The whole time the two of them are laughing, kissing, making jokes with the audience and talking about the process they're going through. It's simultaneously educational, entertaining and arousing and it's unlike any kind of sex scene I've ever watched.
The fisting scene caused Courtney Trouble a great deal of grief because no mainstream distributor would touch the film unless it was censored. Fisting is still considered "obscene" by the mainstream porn industry, even though its a sex act that lesbians and queers engage in regularly. Courtney and Jiz even launched Fisting Day to draw attention to this discrimination. In the end, Courtney released the movie under her own label, Trouble Films.
The final scene sees Courtney move out from behind the camera. She's surrounded by most of her stars and made to have an orgasm via multiple hands, lips and a Hitachi Magic Wand. Again, the audience is part of the scene, cheering and clapping as Courtney finally succumbs to her orgasm.
Live Sex Show is not your average porn film. It's an unusual porn adventure that showcases a wonderful variety of people and their ways of attaining pleasure. It's not big-budget or flashy but it is a lot of fun and, importantly, offers a different perspective of sex and performance. I recommend it.
.Available From
Pink Label: Download
Courtney Trouble Store: DVD or Digital download