Erika Lust is a Spanish director with a degree in Political Science, specialising in Feminism. In 2004 she made an erotic short called "The Good Girl" which received much critical acclaim. She went on to found Lust Films, a media company which aims to create feminist, female-friendly adult films. She's also brought out a number of books. She's become one of the better-known female directors of porn for women. Read her blog here.
X Confessions (2013)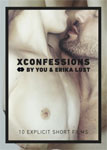 The Blurb: Ever wonder what it would be like to see your sexual fantasies played out in a film? Well in XCONFESSIONS, Erika Lust does just that! Part of an ongoing series, this dvd showcases 10 explicit short films directed by Erika Lust: showcasing her trademark cinematic style, fresh-faced performers and authentic stories created by the public.
At xconfessions.com, users write their dirtiest deeds and forbidden fantasies anonymously. Then, Erika picks 2 confessions each month to be turned into beautiful erotic short films. With provocative titles like "My First Time Eating Oysters and Pussy" or "I Fucking Love Ikea", this compilation has something for everybody. Whether you're into group sex, role-play, erotic games, bondage, or starring in your own porno… after seeing Erika's new production, you'll never see adult film the same way!
Available From
Lust Cinema: Membership
Cabaret Desire (2011)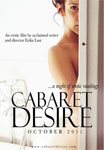 There is a magic and behomian place where people go at night to be told erotic stories. Each guest is assigned a lady or gentleman by a Madame and prepare themselves for the poetic trip they're about to take. Words flow and desire smoothly invades every corner.
Four tales will be told by these sensual narrators and will lead you to discover lustful places and feelings.
Cabaret Desire is the latest and biggest project by Lust Films. With the help of the Poetry Brothel, excellent actors and performers, Erika Lust managed to create a sexy and arounsing film with a feminine perspective. Her eye for details and her attention to genuine desire transforms the panorama of porn everyday, away from mainstream cliches.
Stars: Leo Galvez, Yoha Galvez, Michelle Blanch, Bel Gris, Lara Tinelli, Lola Fellini

Available From
Lust Cinema: Membership
Gamelink: DVD
Ms Naughty store: DVD
Good Vibrations: DVD

Life Love Lust (2010)
This new movie consists of three erotic film jewels by the acclaimed director Erika Lust.
LIFE: After finishing the day in the restaurant, a chef and a waitress have an incredible encounter to celebrate his birthday.
LOVE: A forty-something executive seduces a young man she occasionally meets in a city hotel.
LUST: Lola uses her whole body to give an intense skin on skin massage to a shy and lonely woman, driving her to pure ecstasy.
The DVD also includes two extra short films: Handcuffs and Love Me Like You Hate Me.
Stars: Leo Galvez, Yoha Galvez, Michelle Blanch, Bel Gris, Lara Tinelli, Lola Fellini

Available From
Lust Cinema: Membership
Good Vibrations: DVD
Hot Movies: Download

You can also watch Erika's short film Handcuffs for FREE at Hot Movies!
Click here!
Barcelona Sex Project (2008)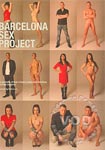 The Official Blurb: Barcelona Sex Project is the latest production by LUST FILMS based on an original idea by Erika Lust. A feminist adult movie, created for women by women, the film discloses the private lives and sexuality of six individuals. The project is based on the conviction that women desire to know a person's inner character (their beliefs, their character, their feelings, fears and passions) before becoming drawn to them on a sexually intimate level.
Starring: David Galant, Joni Lapaz, Joel Acosta, Dunia Montenegro, Irina Vega and Silvia Rubí.
Written and Directed by Erika Lust
Available From
Lust Cinema: Membership
Gamelink: DVD or Download
Ms Naughty: DVD
Hot Movies: Download
Good Vibrations: DVD

Five Hot Stories For Her (2006)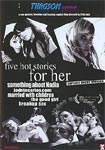 The Official Blurb: FIVE HOT STORIES FOR HER is a compilation of five short films written and directed by Erika Lust, created specially for women and couples. Erika presents five modern, urban, spicy and explicit stories, where the sex takes place in a natural and realistic atmosphere.

Scene 1. SOMETHING ABOUT NADIA is about the power of attraction that a beautiful brunette has on other women.

Scene 2. In JODETECARLOS.COM a soccer player cheats on his wife, who plans an exquisite and creative revenge.

Scene 3. MARRIED WITH CHILDREN is a story about a couple trying to combine their everyday life with an exciting sex life.

Scene 4. THE GOOD GIRL we witness the evolution of a good girl towards a more liberated spirit.

Scene 5. In BREAKUP SEX two gay men have their last sexual encounter.
Available From
Lust Cinema: Membership
Good Vibrations: DVD
Hot Movies: Download