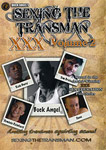 Starring: Buck Angel, Wendy Williams, Rude Bwoy, Tom Bruise, Dane, Marc, Dominc Reinhard
Directed by Buck Angel
I first encountered Buck Angel way back in 2005. I interviewed him for For The Girls and learned all about an amazing guy who was born female. I was also treated to a look at his membership porn site. The whole thing blew my mind, to be honest, because I'd never encountered female-to-male transsexual porn before.
But then again, neither had anybody else at that point. Buck was and is a pioneer; he was the first FTM trans person to become a porn star and blazed a trail into an industry that still treats trans people badly. He ran his own site, starred in plenty of films and won AVN Transsexual Performer of the Year in 2007. He has since moved into motivational speaking, sex education and documentary making - hence this film and it's predecessor.
Sexing The Transman 1 and 2 feature interviews with female-to-male trans people about their lives, their transitions and their experiences living with gender and society's reaction to them. They also talk about sex... and then we get to see them have it.
Back in 2005, Buck's porn was a little confusing to me because my inexperienced straight mind had trouble reconciling the obvious maleness of his body with the femaleness of his pussy. Viewing it was a mind-broadening lesson, for a start, but I also found it incredibly sexy. There were no rules about who did what or what went where and it was all thrillingly arousing. I still feel that way. The bodies of trans people challenge our way of thinking about gender and when you blend that with sexytime fun... it's quite the experience.
In this film we get to see the three guys pleasure themselves, using fingers and sex toys. Rude Bwoy, the first, rubs himself to orgasm while watching porn on his phone. Next up Tom Bruise, makes use of a dildo suction-cupped onto a mirror, which is certainly a memorable thing to watch. Then we see Dominic Reinhard ejaculate mulitple times.
We also meet a cheerful couple who get it on - transman Dane loves sucking the cock of his cisgender partner Marc, who is mostly gay but loves the idea of fucking a man with a pussy. Their friendly banter is good fun and their sex scene reveals that some transmen just enjoy deep penetration.
Watching the film I found myself developing a case of clit envy. These guys all take testosterone and the result is an enlarged clitoris that sometimes can resemble a cock. That and their increased libido had me wondering how I could get hold of some testosterone, just to try it. Although I'm not so keen on the subsequent beard.
The whole film is shot gonzo-style with just a single camera and sometimes Buck gets in really close, to the point that the lens gets pussy juice on it. The film also shows Buck interacting with his interview subjects at their houses or in hotel rooms. This is a pretty low-budget film so don't expect any spectacular lighting or sets.
The DVD comes with a bonus scene starring Buck and male-to-female transsexual porn star Wendy Williams. Again, if you haven't seen this kind of sex before it may be quite the mind-fuck as it abounds with positions and situations that reverse the polarity on your average porn scene. The scene is pretty porny but the pair have a lot of fun and orgasms abound. There's also a revealing interview with Wendy about how the porn industry tends to ignore its transsexual stars, despite the fact that they're part of the third biggest-selling genre.
If you want to see a different kind of porn that's enlightening and arousing at the same time, I recommend Sexing The Transman XXX 2.
Available From
Ms Naughty store: DVD
AEBN: Download
Hot Movies: Download