Erotica for Women
These sites all cater specifically to female surfers.
Bright Desire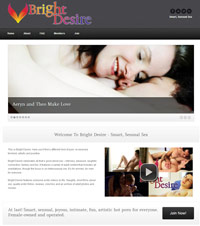 WINNER BEST WEBSITE, FEMINIST PORN AWARDS 2015.
Here's some shameless self-promotion. Bright Desire is my home on the web. It contains all of the sex scenes and erotic films I've shot over the last decade. This includes explicit hardcore sex scenes starring real-life couples. These scenes are different from what you'll normally see on a porn site; they capture more than just sex (although it's pretty damned hot, let me tell you). But beyond the fantastic fucking, there's also laughter, tender moments, intimate knowledge of each other, communication, bloopers, passion and real pleasure.
I've also created the "voiceover series" of solo masturbation scenes showing both men and women at their most vulnerable - while giving themselves pleasure. And then there are my short films, sometimes funny, sometimes artistic. I've also added erotic fiction, artistic photography, film reviews, columns and a huge archive of porn that I like in a section called "Under the Bed". In short, this is what porn should look like.
The site is mainly heterosexual but there is also queer content. It's catering to men, to women, to everyone and it doesn't seek to define who you are by what you do in bed or what you fantasise about.
If you want to enjoy great porn that ignores the old cliches and boundaries of porn, please visit Bright Desire.
Sssh.com
Sssh.com is a women's erotica site that takes something of a "softly softly" approach to offering porn to hetero women. The site focuses on sensuality and passion in it's photos of couples and naked men. There's an entire magazine to keep you busy, with instructional articles and fun columns.

The movies here have been created in-house, and, while there aren't many, they're definitely made with female sensibilities in mind. The videos are all couples-based and feature fabulous costumes and interesting scenarios.

Click here to visit Sssh.com
Lustery
The home of real-life partners filming their sex lives behind closed doors, Lustery allows these lovers to open those doors to a like-minded community of people who value real intimacy and emotion in porn.

Click here to visit Lustery
Pink Label TV
Created by queer auteur Shine Louise Houston, Pink Label TV is a one-stop-shop for queer and female-friendly video on demand. This site features thousands of quality adult films made by indie producers. You won't find the usual porn aesthetic at Pink Label. Rather, you'll see all body types, identities and sexualities, available to explore.

Click here to visit Pink Label TV
For The Girls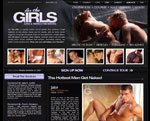 More self promotion:
In 2003 a female friend and I got together to create exactly the kind of premium porn site we would want to join. For the last ten years we've filmed and photographed hot men and hardcore sex, hand picked more photos of hunky men and sexy couples, written heaps of sex stories, articles and columns, and added advice and humour, games and jokes and lots more.

The porn movies at For The Girls have also been carefully created and vetted. We've got videos of male-female cunnilingus, male strippers (real and amateur), hunky men masturbating, and couples tenderly making love or fucking hard. There's also some kinky stuff and same-sex erotica. On top of that there's the DVD library and streaming video with some seriously hardcore sex.

All in all, For The Girls exists to fill a void. We want women to feel satisfied, and we're constantly working hard to make sure they are. :)

Click here to visit For The Girls
FrolicMe
FrolicMe is an adult site offering glamour-style straight sex scenes. It was founded by Anna Richards in 2015. ,The videos are beautifully produced with an eye to female pleasure and the target audience are women and couples looking for a more tasteful type of porn. The site also features well-shot photography, erotic fiction and feature articles.

Click here to visit FrolicMe
Blue Artichoke Films
Erotic film for people who like film. Created by my longtime friend and filmmaker Jennifer Lyon Bell. These films are lushly produced and very watchable.
Click here to visit Blue Artichoke Films
Forplay Films
ForPlay Films is an independent, all-woman production company on a mission to create erotic short films through a feminist gaze.
Click here to visit Forplay Films
Real Lesbian and Queer Porn
The Crash Pad Series
Shine Louise Houston has moved her sumptuous tales of lesbian hookups online. The Crash Pad is an apartment where women meet for no-questions-asked, no-holds-barred sex. Great production values and seriously hot and authentic lesbian porn!
Click here to visit The Crash Pad Series
Good Dyke Porn
Canadian Bren Ryder set out to create her own special space on the web with Good Dyke Porn, a new and expanding website which is updated regularly with freshly shot real-lesbian movies and photos..
Click here to visit Good Dyke Porn
Indie Porn Revolution
Indie Porn Revolution (formerly NoFauxxx.Com) was created in 2002 as a space to explore sex beyond straight, gay, lesbian, and gender binaries. This site led to the creation of the "Queer Porn" genre, with it's all-inclusive casting and production standards. The site features sex acts of all kinds featuring people of all genders, sizes, shapes, sexualities and identities. No rules, lots of fun.
Click here to visit Indie Porn Revolution
More Great Sites
Beautiful Agony - The faces of orgasm
Pandora Blake's Dreams of Spanking - That's a paddlin'


Looking for more female-friendly porn? Visit the Porn for Women Network or Ms Naughty Porn for Women