While the mainstream porn industry continues to depict transsexual people in a very stereotyped way, a new wave of trans people are making their own porn, seeking to better depict their sexual experiences. Here's some of their work.
Note: I've used the word "authentic" for this page's title to assist people to find it amid the sea of mainstream transsexual films. It's a useful term for differentiating the films you see here.
Biodildo 2.0 (2015)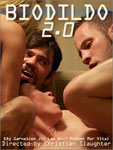 Winner: Most Tantalizing Trans Film, 2015 Feminist Porn Awards
Biodildo turned the idea of "domestic bliss" on its head with its seriously hot scene starring Jiz Lee and KAy Garnellen. Now things get interesting!
The blurb: Following the story from BIODILDO, Bettie wants to bring their sex life to another level but husband Barney is worried. Signing up for a swingers website turns out to be a night they'll never forget.
Starring: Jiz Lee, Wolf Hudson, KAy Garnellan, Mor Vital
Available From
Pink Label: Download
Trans Lesbians (2015)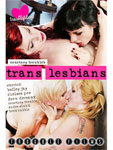 Winner: Most Tantalizing Trans Film, 2015 Feminist Porn Awards
Courtney Trouble's Trans Lesbians is a chemistry-driven hardcore feature that follows Bailey Jay, Chelsea Poe, and Drew DeVeaux through a lusty web of lesbian sex. The five scenes in Trans Lesbians are shot in Trouble's trademark artistic hardcore style that blends effortlessly the trans-postive porn ethos that TROUBLEfilms is famous for, with an edge of raw, hardcore sex that fans love.

"I wanted to focus on three women who have really put forth so much effort to make the industry a great place to work, and really embody that TROUBLEfilms creative spirit. Bailey, Chelsea, and Drew stand above the rest in my mind as muses and incredible individuals. They are three of the most important trans performers of our generation." – Courtney Trouble
Courtney Trouble's Trans Lesbians is a follow up vignette-style film to the 2013 award-winning title Trans Grrrls: Revolution Porn Style Now!
Starring: Jiz Lee, Wolf Hudson, KAy Garnellan, Mor Vital
Available From
Pink Label: Download
JL + DD (2015)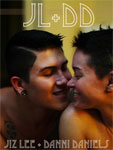 Winner: Sexiest Star Feature, 2015 Feminist Porn Awards
This film was 3 years in the making - after filming the scene, Jiz lost contact with Danni and then the footage was temporarily lost. Now it's finally available!
The blurb: When crushes make porn, you get an hour of connected, high-chemistry sex in a marathon of fun, athletic positions from trans woman superstar Danni Daniels and genderqueer porn star Jiz Lee.
Starring: Jiz Lee, Danni Daniels
Available From
Pink Label: Download
Twitterbaiting (2014)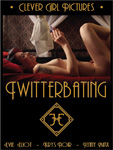 Winner: Best Newcomer, 2015 Feminist Porn Awards
The blurb: Twitterbating is Evie Eliot's directorial debut, and the first release for Clever Girl Pictures. Come join Evie Eliot (She/Her), Krys Noir (He/Him) and Jenny Minx (She/Her) as they spend a lazy summer day in bed together.
No plot… just three friends having beautiful, indulgent sex with lots of oral, PIV, anal, pegging and magic wand vibrators… oh, and something to do with Twitter?
Starring: Evie Eliot, jenny Minx, Krys Noir
Available From
Pink Label: Download
Unicorn Gangbang (2013)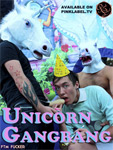 Blurb: Poor James Darling! He was so excited about his birthday party that he rented a bounce castle, blew up all the balloons and even wore his special birthday sweater, but NONE of his friends showed up! Just as he was about to lose all hope in the world, along comes Mr. Unicorn!
What happens next can only be described as a gangbang of mythical porportions! You've never seen porn like this before, join James on the glitter cupcake unicorn fuckfest of a lifetime!
Starring: Dex Hardlove, James Darling, Puck Goodfellow
Available From
FTM Fucker: Membership
Pink Label TV: Download

Trans Grrrls: Revolution Porn Style Now! (2013)
Blurb: This queer porn epic is a smoking hot two and a half hours of cute hipster grrrl make outs, hot boy and girl costars, gender bending and blending, heavy petting,playful kink, strap ons, sex toys, oral, anal, muffing, public sex, squirting, cumming, role play, laughter – and even a little bit of love.
Borrowing the iconic language of the riot grrrls, Courtney Trouble is making a serious statement with this sex-positive punk rock porno: trans women belong, and should be forefront, in this here feminist porn movement. TROUBLEfilms hopes to add to the growing library of alternative trans porn available to the queer community, as well as show the mainstream world what can, and will, be done to improve the genre.
Starring: Chelsea Poe, Maxine Holloway, Dylan Ryan, Emma Claire, Hayley Fingersmith, Jacques LeFemme, Tobi Hill-Meyer, Quinn Cassidy, Ari Crow, Ned Mayhem, June Day, and Velvet!
Available From
Gamelink: DVD or Download
Pink Label TV: Download
Courtney Trouble Store: DVD
Doing It Again: Playful Awakenings (2013)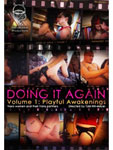 Blurb: A film by Tobi Hill-Meyer. A detailed exploration of trans women's relationship and hookup dynamics, this film series weaves together explicit scenes and interview footage from a diverse range of trans women and their partners to paint a holistic portrait about trans women's sexuality. These films showcase powerful and unique stories focusing on trans women and their partners, from those who've just met to those who've been together over two decades. 
Volume 1: Playful Awakenings centers trans women with trans partners, featuring four couples:  Drew Deveaux and Hayley Fingersmith, Chelsea and Mo, Lillith von Fraumench and Violet DeVille, and Azure Sparkles and Juicy. Intimate, tender, and lots of fun, Playful Awakenings kicks this series off on a smart and sexy note.
Available From
Courtney Trouble Store: DVD
Pink Label TV: Download
Sexing The Transman 3 (2013)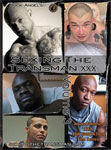 Blurb: Volume 3 of this groundbreaking, award winning series brings you more studs and couples! Bleu and Je, a queer transman and cis/bio girlfriend, Rex a HOT transman of color, Rude Bwoy and Lola a trans couple of color, Dicky Johnson in a solo scene and Buck and Sean Steele a cis/bio gay stud. Amazing sexy soundtrack by Stuart Warwick.




Available From
Pink Label TV: Download
Billy Castro's Naughty Squirters (2011)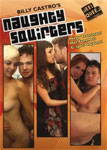 Blurb: Who's that hot man in the love van? Why, it's Billy Castro, on the hunt for femmes! The pervy tattooed transman's search quickly yields naughty new girlfriends who come, squirt, and get down on his silicone dick. With sexy Seda he only gets as far as the sleek black sofa — they can't even make it all the way to the bedroom before starting a steamy session. Cute blonde Chloe Camilla writhes and squirts under Billy's thrusts, while nasty Ashley Blue likes it rough. Gorgeous redhead Calico Lane is left sweaty, spent, and happy. A must-see for female ejaculation fans, lovers of natural bodies and breasts, and Billy Castro lovers (and wannabes) everywhere!
Available From
Gamelink: DVD or Download
Good Vibrations: DVD
Sexing The Transman XXX 2 (2012)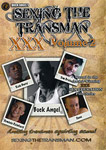 Buck Angel - The originator of transman porn presents the second volume of his ground-breaking, award-winning series. Rude Bwoy - Lean and Mean: transman of color jacking off to porno! Tom Bruise - Devilishly handsome: trans leatherman sucks and fucks! Dane and Marc - Hot young couple: flesh cock pounds transman hole. Dominic Reinhard - Misleading Innocence: squirting Latino Transman!
Buck's Blurb: I'm excited to present "Sexing The Transman XXX-Volume Two" the follow-up to my ground-breaking, award-winning, educational adult series. This second docu-porn sensation consists of interviews combined with graphic sex and shows a much more diverse group of transmen than Volume One. In addition to solo action, it also contains two scenes featuring couples--one of them with me and MTF porn star Wendy Williams fucking like you've never seen. The other lets you into the bedroom of Dane and Marc, a real-life trans and cis-gendered pair.
Available From
Ms Naughty store: DVD
AEBN: Download
Hot Movies: Download
Please check out all of Buck Angel's films on this page.

The Genderfellator (2011)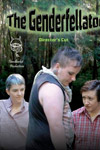 Blurb: A plot-driven pornographic parody following Rip (Texas), a young trans man from the present who falls asleep for 80 years and wakes up in the middle of a major conflict over illegal genders. With the help of cyborg rescue agent, Aurora (Maya Mayhem), he narrowly escapes Androdyke Brigade officers, Sally (Timothy Swan) and Lacey (Devin St Clair), and discovers that only he can end the longstanding conflict between the authoritarian Androdyke Brigade and the Radical Gender Resistance.
A campy sci-fi romp that follows up the 'dialog' started by the 2007 film The Gendercator, which depicted trans people and evangelicals working together to force butch women to transition to men. A critical exploration of conflicts and dynamics around trans people in queer women´s communities with musical interludes, action, and plenty of hot sex. Directed by Tobi Hill-Meyer
Available From
Pink Label: Download
Handbasket productions: DVD
Rec Room (2011)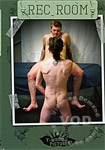 Blurb: J-Bird and Deluxx Dash get nasty with ice cubes, deep finger fucking, squirting, and strap-on sex. J-Bird lies on his back, his dick sticking up proudly, as Deluxx greedily sucks on it and then takes it deep inside himself, riding it until he climaxes. Next, Chance McKinsey and Quinn Valentine have fun with some anal play, finger fucking, and oral pleasure for both. Chance dons a cock and fucks Quinn in the ass, giving them both the ultimate erotic fuck session!


Available From
Hot Movies: Download
Doing It Ourselves: The Trans Woman Porn Project (2010)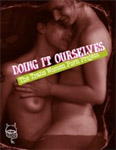 Blurb: Doing it Ourselves is a hot collection of trans women and their partners of all genders engaging in sex the way they want to be represented. Starting with a group of trans women who are tired of the way that they have seen trans women portrayed in porn, this film tells the story of its own creation when the decide to, well, do it themselves.
Directed by Tobi Hill-Meyer: winner of the Emerging Filmmaker Award from the 2010 Feminist Porn Awards
Available From
Pink Label: Download
Hot Movies: Download
Handbasket productions: DVD
Billy Castro Does The Mission (2010)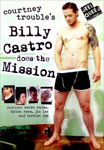 The blurb: Hit the dirty streets of San Francisco's Mission District with Billy Castro, a hot transman who know his way around. When Dylan Ryan steals his bike, he gets it back by getting it on... splashing, slapping, sucking and fucking in her hot tub hideaway. After toweling off, Jiz Lee takes Billy out for the orgasmic count in a wanton wrestling match, squirting sweet victory all over her opponent. But then Billy gets the upper hand topping Akira Raine in a passionate power play as she attempts to kidnap him outside the local gay bar. That makes him late for an important date with impatient porn star Lorelei Lee. She suffocates Billy by sitting on his face, before getting fingered and fucked, draining him of every drop at the end of this sex-crazed day.
Starring: Lorelei Lee, Dylan Ryan, Jiz Lee, Billy Castro, Akira Raine

Available From
Ms Naughty store: DVD
Gamelink: DVD or Download
Hot Movies: Download
Good Vibrations: DVD or Download
Couch Surfers (2009)
Blurb: The next hot, gay FTM porn from the guys at T-wood Pictures who brought you Cubbyholes! Join a few familiar faces and some newcomers, as another group of queer men converge on the couches of San Francisco's Premiere Gay Sex Club. Couch Surfers: Trans Men in Action features: Dex Hardlove, Ian Foxe, CJ Cockburn, Ian Sparks, with guest appearance by Mark Van Helsing, and introducing Brett McCloskey, Cupid, Lube Boy, and Peter Pleas.


Available From
Pink Label: Download
Cubbyholes (2008)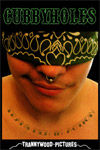 Blurb: The revolution of trans men porn starts here. Definitely gay, definitely FTM, definitely hot! A group of trans cubs and cis men meet up at the premiere San Francisco gay sex club for a wild adventure.
Nominated for Best Alternative Release by the 2008 GAYVN Awards



Available From
Pink Label: Download
Trans Entities (2008)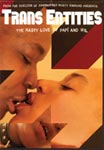 In Trans Entities, a real-life transgender couple bare it all—talking about polyamory, race, gender, safer sex, transbodies, and more—in between scenes of superhot bondage, S/M, and power play. Papi, Will, and their deaf partner Chris negotiate dramatic scenes including an interrogation role play and a "chicken" contest to see who can withstand the most pain. Connection, intimacy, and honest talk about how race affects power and sexplay make the intensity of slapping, punching, and submission all the more sexy.

Starring: Papi, Wil, Chris
Director: Morty Diamond

Available From
Direct from Morty Diamond's site
Trans Romantic: Forbidden Lovers (2012)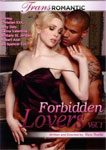 This film, directed by Nica Noelle, features M to F transsexual sex. It's a trans film made by the mainstream adult industry. It's the first "romantic" trans film I've heard of. Nica has won a Feminist Porn Award so I'm including this film on the trans page despite its mainstream origins.
The blurb: When tall, muscular Christian brings home his shy, young girlfriend Amy to meet his parents, the pretty blonde seems uncomfortable and nervous. When a storm forces the couple to stay the night, Christian confronts Amy and finally learns the secret she's been hiding. Will it spell the end of their relationship, or a hot, new beginning? Meanwhile, exotic and handsome Robert is fighting an attraction to sexy nerd secretary Brittany. But as he seduces the tall, intelligent redhead, his blonde bombshell girlfriend Sarina is busy having an affair of her own - with gorgeous, young Spencer Fox!
Available From
Gamelink: DVD or Download
Ms Naughty: DVD