Venus In Furs (2012)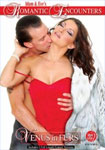 In the last year or so, several major porn film companies have produced "romance" based adult films. This is apparently part of a move to attract female customers, more than the usual "couples porn" style attempts. Executives have got it into their head that all women love romance and thus, here we are.
Don't get me wrong, I like romance as much as anyone and it's nice to see a real attempt to establish it as a genre. Still, I'm sure there are women out there who will take offence at the idea that all women will love this movie. Certainly I know it's not for everyone.
Moving on, Venus In Furs is Adam and Eve's first foray into this newly re-established romance genre and I have to say, I quite liked it. The plot involves a father and son who both fall in love with the same woman. The main protagonist is the Dad (Tony DeSergio), who hooks up with the Son's girlfriend Vicki (Ann Marie Rios) while he's out of the country. Things progress from a one night stand into a fully-fledged love affair and, naturally, things go a little pear shaped when the Son returns home.
Yes, it's cheesy and yes, it's a soap opera but we are talking Romance with a capital R here. There's even a candlelit montage complete with strawberry eating, slow dancing and saxophone music, in case you didn't get what kind of film you're watching.
Of course, the plot still exists to create sex scenes and there's plenty to be had. Things sizzle between Venus/Vicki and the Son and there's also a rather impressive sex-sling shag between India Summer and Marcus London. Most of the sex scenes are relatively formulaic and involve open-camera positions, lots of female moaning and a focus on penetrative sex. Still, before that we get long cunnilingus sessions, lots of kissing and a determined depiction of slow touching and foreplay. The girls don't ever seem to come and the scenes all finish with an external cumshot, though most are on the belly or pussy.
I will admit that I fast forwarded through some sex scenes because they were quite long. And because I wanted to get back to the plot and find out what was going to happen next. While the Venus character is a little difficult to empathise with (she does cheat on her boyfriend after all), the Dad is quite likeable and kind, if a little too muscly for my taste. It's hard to discern exactly why this pair would fall in love, to be honest, especially as they're just fuckbuddies at the start, but nonetheless I found myself drawn into the story. The ending is impressive and, dare I say it, unexpected.
The acting is really very good, especially by Ann Marie who manages to dredge up tears at one point. The others play their part well but they're let down by rather clunky dialogue.
The film looks fabulous and big-budget and all the stars are good looking. Be aware there's a couple of fake boob jobs on show.
Venus In Furs wasn't a bad experience. It doesn't quite manage to have the emotional depth required of a romance but it looks nice and the sex is watchable.
Available From
Gamelink: DVD or Download
Ms Naughty: DVD
Hot Movies: Download
AEBN: Download