British film director Anna Span has been creating her own brand of porn for nearly ten years. Now she's expanded her vision to include other female directors. The Women Love Porn series showcases the work of up-and-coming women filmmakers who all have their own version of what's sexy.
Women Love Porn (2010)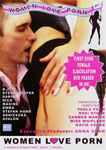 The Blurb: Anna Span sent out a challenge to the UK's female film makers to shoot their sexual fantasies. Out of hundreds of replies, she selected the best five to go forward on the next level, to compete for a movie of their own. Only one woman can win.
This film contains the first female ejaculation scene passed by the UK censors. After a long and difficult legal battle, Anna got the board to admit that ejaculation wasn't urination.

Starring: Steve Hooper, D.J., Stefan Hard
Directors: Katie Coxxx, Carmen Mariss, Roxi Stone, Paula Porn, Miss Whiplash
Available From
Gamelink: DVD or Download
Strictly Broadband: Download
Morning Glory (2011)


The blurb: Welcome to breakfast TV as it should be! There's lots of sex on the sofa to help you ease into the day. So come with us as we show you our special features for today!
This is the fourth film in Anna Span's Women Love Porn series.
Starring: Emma Louise, Suzie Best, Lee Henshaw, Steve Hooper, Jeff Keane
Directed by: Jelena Lakic
Available From
Gamelink: DVD or Download
Hot Movies: Download
Strictly Broadband: Download
Rock Hard (2009)


The blurb: Being a rock chick just means you get to cut to the chase quicker and these rock hard women are no exception. Watch them here as they ride the man and music exactly the way they want to! They sit and rock on these huge, pulsating cocks just like they do on the mic! They fuck and suck these cocks off until they get what they want...
Starring: Renee, Rocco, Poppy Morgan, Stefan Hard, Dougie, Keira Farrell, Natalie Heck, Dimitri XXX, Mark London, Sam Royal
Directed by: Jelena Lakic
Studio: Easy on the Eye (Anna Span's Diary)
Available From
Gamelink: DVD or Download
Hot Movies: Download
Apocalypse Angels (2009)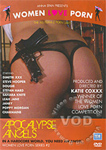 The blurb: Want to come to the dark side? These three angels will take you by the hand through their post-apocalyptic world and show you how hot and hard sex saves them from a living hell. With four scenes of hardcore boy/girl, and one steamy girl-on-girl action scene, these apocalyptic angels will be a blessing to the horny.
Starring: Charmaine, Steve Hooper, Poppy Morgan, Stefan Hard, Janey, Dougie, Sahara Knite, Dimitri XXX, Leah Jane
Directed by: Katie Coxxx
Studio: Easy on the Eye (Anna Span's Diary)
Available From
Gamelink: DVD or Download
Hot Movies: Download