Xana and Dax: When Opposites Attract (2005)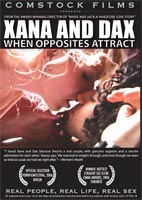 Having been wowed by Tony Comstock's first film Marie and Jack: A Hardcore Love Story, I was eagerly looking forward to seeing his new effort, Xana and Dax: When Opposites Attract. And I'm happy to say that I wasn't disappointed. This film is another fine example of how intelligent, engaging and beautiful porn can be.
With both his films, Comstock has created a brand new genre - pornomentary. Forget the concept of "reality" porn, this is the authentic thing. Real couples, real relationships, real sex. It's part documentary and part stroke film, and that's what makes it so wonderful.
In his first film we met Marie and Jack, who are married porn stars. Their experience in front of the camera meant that they were comfortable with letting us see their most intimate moments. Xana and Dax also have some experience in the sex industry, but this is not work for them. These two people were eager to be in the film, because they wanted to share their love with the world and show people how beautiful sex can be.
The first 17 minutes of this 45 minute film are spent getting to know Xana and Dax. In a plain, sit-down documentary setting with a black background, we hear about how the couple met and we listen to them describe their first intimate encounter. They tell us what they love about each other, and why they've decided to do the film. Like every close couple they finish each other's sentences, and laugh softly together. It reminded me of those documentary-like scenes in "When Harry Met Sally" when the old married couples talk about how they met… except the orgasms are definitely not faked in this film.
Interspersed between their comments are quick splices of the couple having sex. It's almost a teaser, although some sections are used to illustrate the point being made. For example, Xana explains her orgasm, and what it was that made her climax during the scene. While she talks, we're watching her do it. For those of us who wonder what another woman is thinking at such moments, it's a revealing glimpse.
The sex itself is enjoyable to watch. It's slow and deliberate, and the couple put real effort into pleasing each other. There's a kind of duality in the way they have sex. Xana and Dax are putting on a show of sorts, and they're aware of the camera's presence, even though they don't acknowledge it until the final frame.
At the same time, it's like they're alone. They're still thoroughly enjoying sex with each other, and they don't do anything overtly "showy" for the benefit of the viewer. They kiss, they undress, they give each other loving massages. We're given numerous chances to admire Xana's impressive back tattoo, and Dax's thin but muscle-y body. This couple are undoubtedly good looking, but in a very real way. Xana still has her wobbly bits, and Dax has a lot of body hair - something which worries him, as he reveals early on.
The camera focuses on both parties, not just Xana as would happen in a "normal" porn film. Indeed, from a woman's point of view, there's a great deal to enjoy here. There's some nice close-ups on Dax's rather impressive penis, and plenty of shots of his face; we get to enjoy his reactions to sex and we see his expression when he comes. His climax occurs through masturbation, and it's an old fashioned "money shot" in one sense. At the same time, this is how the couple wanted to do it, and Xana clearly takes great pleasure in watching her man pleasure himself.
There's so many little things in this sex scene that are wonderful to see. The couple talk to each other as they make love, murmuring little instructions and endearments. Indeed, this could well be the first porn film where I've heard the man ask "Did you come?" and the woman, still panting, says "Yes." As well as that, they kiss each other, they fondle each other's bodies, they look into each other's eyes. This is exactly the sort of detail that most porn ignores, but it makes the whole experience that much richer.
Of course, that's not to say there's no hardcore sex. There is, and quite a lot of it. We get to see the couple pleasure each other via a sixty-nine, and then Xana has her shuddering orgasm during doggy style sex. After that, the couple engage in some serious hard and fast shagging… and I must admit, I got sore just watching it. Dax proves himself to be a man of such staying power that I started to wish he'd get on with it towards the end. I think there must be at least 15 minutes of solid intercourse in four different positions. Not that it's really a problem. This is, after all, real sex, and as the couple say at the start, if you don't like what they do, too bad.
On the whole Xana and Dax is a wonderful film that women will love. I've often read complaints from female porn users that so much porn is ridiculously fake. This film offers the real thing, with all the intimacy, laughter, love and genuine pleasure that we ourselves experience during good sex. I can't recommend it enough.

Starring: Xana and Dax
Director: Tony Comstock
Studio: Comstock Films
Available From
Gamelink: DVD or Download
Hot Movies: Download
This review also appears at For The Girls!
Reviewed April 2005