You've read Fifty Shades of Grey by EL James and now you're keen to see a good porn movie that offers erotic BDSM. Preferably with a female submissive and a hot guy. Here's a few films to get you started along with some instructional videos. I suspect we'll see a lot more of these movies released in the future.
Alternately, check out the more hardcore BDSM, Kink and Fetish page
The Submission Of Emma Marx: Boundaries (2015)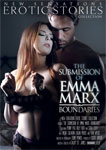 The sequel to the hugely successful first Emma Marx film.
The blurb: When a new contract is drafted up defining the parameters of their BDSM relationship, Emma realizes that Mr. Frederick is anything but predictable. With new rules pushing her beyond her emotional and sexual limits, Emma finds herself caught up in a whirlwind of erotic excitement. But when someone from Mr. Frederick's past resurfaces, her world is rocked to the very core. Rattled by the realization that sometimes the road to sexual freedom comes with a price, Emma must confront her inner demons and decide whether she's capable of a relationship that challenges the boundaries she's defined for herself.
Starring: Riley Reid, Penny Pax, Richie Calhoun, Logan Pierce, Van Wylde
Available From
Gamelink: DVD or Download
Ms Naughty: DVD
The Sexual Liberation of Anna Lee (2014)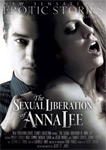 The blurb: After growing up in a conservative home, a sexually repressed, Anna Lee (Maddy O`Reilly) seeks help in the most unlikely of places - an unconventional therapy practice called the Variel House. Known for taking a very hands-on approach to treatment, the Variel House pushes patients to their sexual limits through a variety of exercises geared at helping them confront their fears. It is during these exercises that Anna Lee is paired up with Emmett (Xander Corvus), a patient battling his own demons, and the two forge an unlikely friendship. Together they share their most intimate secrets and hidden desires while navigating an intensely provocative road towards sexual freedom. But when their erotic journey proves too challenging for Emmett to handle, Anna is left wondering whether true liberation can only be found on one`s own.
Starring: Steven St. Croix, India Summer, Johnny Castle, Xander Corvus, Maddy O`reilly, Jessa Rhodes, Natalia Starr
Available From
Gamelink: DVD or Download
Ms Naughty: DVD
Bound By Desire (2013)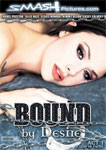 The blurb: When a young woman and her best friend get involved in relationships with a couple of older rich men they soon realize that there is a cost to leading a spoiled pampered life. These men are part of a group of life-stylists that enjoy the delights of whipping and dominating their lovers in a slave to master relationship. Friends with the recklessly perverted Evan Stone and his demented wife Chanel Preston, the young women find themselves immersed in a world of role playing and servitude. Wives are play toys and objects to be pampered and serve their masters' every sexual desire.
Note: this film has 2 sequels
Starring: Evan Stone, Elexis Monroe, Danny Wylde, Ryan Driller, Allie Haze, Chanel Preston, Richie Calhoun, Casey Calvert, Kimmy Olson

Available From
Gamelink: DVD and Download
Ms Naughty: DVD
Hot Movies: Download

Shades of Kink 2 (2013)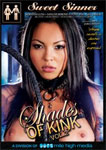 The blurb: A young man is attracted to a seemingly innocent, sweet young woman. But when he discovers that she moonlights as an infamously dominatrix by night, his sense of normal, safe, every-day sexual relationships is turned on end, leading him to make some serious adjustments in his own erotic proclivities
Starring: Steven St. Croix, Mr. Pete, Dana DeArmond, Seth Gamble, Lily LaBeau, Adrianna Luna, Penny Pax, Logan Pierce

Available From
Gamelink: DVD and Download
Ms Naughty: DVD
Hot Movies: Download
AEBN: Download
Pleasure's Edge: Fifty Shades Of Erotica (2013)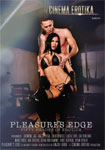 The blurb: Welcome to Pleasure's Edge. A discreet online agency where couples can act out their sexual fantasies in a safe environment. Anonymous wife watching with the guarantee of maximum pleasure.
Starring: Ava Dalush, Jaiden West, Jasmine Jae, Lucia Love, Dean Van Damme, Kai Taylor, Luke Hotrod, Marc Rose, Ryan Ryder

Available From
Gamelink: DVD and Download

The Submission Of Emma Marx (2013)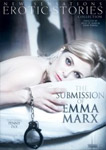 The blurb: By all accounts, Emma Marx is a beautiful, confident, well-adjusted woman. Unfortunately, when it comes to love and romance, she has found all of her previous relationships to be a bit routine and mundane. Suddenly, that is all changed by a chance encounter with a handsome and mysterious man. He introduces her to a world she had only dared to fantasize of a world of erotic sex, role-play and BDSM. She questions how a man can so easily strip away her inhibitions and replace them with lust and desire. How is it that he has such control over her? Why does she like it so much? Her journey of self-discovery and sexual awakening, however, may come with a price. What happens when the greatest love you've ever known forces you to face your greatest obstacle - yourself?
Starring: Penny Pax, Kylie Reid, Richie Calhoun

Available From
Gamelink: DVD
Shades of Kink (2012)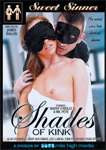 Enter the dark territory of unbridled sexual perversion and fantasy in Sweet Sinner's taboo-smashing new feature film, Shades of Kink. Riley is a sweet, innocent and motivated college grad looking for her first job at Norton Ashe's marketing firm. The mysterious Ashe is looking to help his new recruit open up her imagination and body to new experiences. With intense drama and explosive performances by Maddy O'Reilly, Andy San Dimas, and Lily LaBeau, Shades of Kink guarantees to re-invent erotica.
Starring: Evan Stone, Erik Everhard, Mr. Pete, Andy San Dimas, Lily LaBeau, Maddy O'Reilly
Available From
Gamelink: DVD and Download
Ms Naughty: DVD
Hot Movies: Download
AEBN: Download
Power and Control (2012)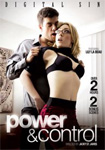 The blurb: When you've got Power and Control, nothing's going to stop you from fucking what's rightfully yours. For over two hours, watch Lizzy London, Lily La Beau, Jessie Andrews, and Maddy O'Reilly surrender to their man's sexual impulses. You'll see just how passionate the sex can be when he calls all the shots!
Starring: Lily Labeau, Jessie Andrews, Lizzy London, Maddy O`reilly


Available From
Gamelink: DVD or Download
Ms Naughty: DVD
A Lover's Guide To 50 Shades (2013)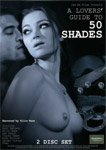 Our original and sexy educational film series is designed to guide you and your partner on a mutually intensely satisfying sexual adventure. We will demonstrate to you the necessary elements in order to have sexual encounters similar to those found in today's most popular romance novels. The intensity and the daringness of these marvelous encounters will increase as you go further on your journey.

In this volume you will learn how to:
Sensually bathe and blindfold your lover.
Use ben-wa balls and ice cubes to heighten senses.
Use a riding crop and flogger to evoke pleasure from pain.
Restrain your lover with a tie and shackles.
What safe words are and how to maximize the boundaries of erotic play.
Starring Allie Haze, Lea Lexis, Tracey Sweet, Dani Daniels, Ryan Driller, Xander Corvus
Available From
Gamelink: DVD

Fifty Shades Of Dylan Ryan (2012)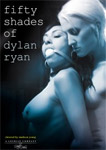 Award Winning Feminist Pornographer, Madison Young, brings you Fifty Shades Of Dylan Ryan. Wealthy entrepreneur and book publishing mogul, Ms. Grey, has met her match in young college student and curious submissive, Dylan Ryan. After a sexy and defiant Dylan challenges Ms. Grey to a bet, Dylan forgoes her freedom and submerges herself into a life of total submission, testing her boundaries, proving her servitude through sexual gratification, masked orgies, soaked in female ejaculate, vibrated and fucked to orgasmic heights coupled with fellow sexual servants Bianca Stone and Berretta James. Dylan is whipped to climactic moments of pain and pleasure and collared while cradled in an intimate embrace of tenderness after an aggressive and beautiful journey into the depths of her darkest desires.
Starring: Madison Young, Dylan Ryan, Sadie Lune, Penny Barber, Scotch Inkom, Beretta James, Bianca Stone, Coral Aorta, Dixon Mason, Dorian Faust, Emily Genevieve, Siouxsie Q

Available From
Gamelink: DVD and Download
Ms Naughty: DVD
Hot Movies: Download
AEBN: Download
Dr. Ava's Guide To Sensual BDSM For Couples (2012)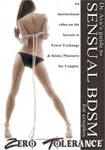 The blurb: An instructional video on the secrets in power exchange and kinky pleasure for couples. Dr. Ava's Guide To Sensual BDSM For Couples demonstrates sensation play, bondage and discipline, sadism and masochism, female domination and male submission, male domination and female submission, top and bottom BDSM as well as aftercare. You will learn how to incorporate sensual BDSM and power play into your sex life while discovering your own erotic limits. You will see explicit demonstrations that will help you to explore your dominant and submissive fantasies and push your boundaries to expand your sexual horizons, while enriching your love life for you and your partner.
Starring: Dr. Ava Cadell

Available From
Gamelink: DVD and Download
Ms Naughty: DVD

Endless Shades Of Great Sex (2012)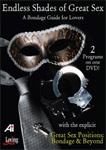 The blurb: Redefine BDSM and explore the sensual art of bondage as a way for couples to play. Drop your inhibitions, try these roles for a few hours, and bring your fantasies to life. Bondage is a type of domination, an exchange of trust best enjoyed between committed couples. Fantasies of sexual surrender offer an escape from real life responsibilities. Indulge in sexual misbehavior with your loved one, have fun, and keep connected!

Includes nineteen scenarios to inspire role play
Learn to dominate or be dominated
Discover floggers, restraints and sexy accessories for couples
Create your own erotic scenes from your favorite novels
Bring your ultimate fantasies to life
Available From
Gamelink: DVD
Ms Naughty: DVD
The Art of Erotic Spanking and Bondage: A Lover's Guide to BDSM (2012)
The blurb: Discover the pleasures of dominance and submission. Join us for an erotic visit at Widow Centauri's dungeon. Unleashing your inner master or slave can be a liberating experience that will take your sexual pleasure to new heights of ecstasy. Watch attractive real couples explicitly explore themes ranging from spanking to S&M to rope tying basics and beyond. Indulge your fantasies and experience new levels of arousal with this erotic sexplay.

Communication and safe words
Being restrained for sexual arousal
Tickling, flogging, denial of pleasure
Erotic pain and BDSM tools
Costumes and role-playing
Rope tying for stimulation
Available From
Gamelink: DVD
Ms Naughty: DVD
Playgirl's A Little Kink (2011)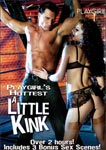 Official Blurb: It's time to get playful. To go beyond conventional sexual practices and find yourself on a level of heightened intimacy. Unlock your hidden potential. Explore a deeper connection. Well? What are you waiting for? Includes bonus sex and solo scenes, trailers and photo galleries.

Starring: Harmony, Memphis Blake, Mario Rossi, Bill Bailey, Marco Duato, Nick Jacobs, Nick Manning

Available From
Gamelink: DVD or Download
Ms Naughty store: DVD
Nina Hartley's Guide To Sensual Submission (2003)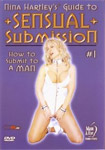 The blurb: Triple-X legend Nina Hartley knows. And now she shares her most intimate secrets in this erotic guide to submitting to a man. In this first installment of her submission videos, Good Vibrations staff favorite Nina Hartley shows beginners how to submit to a male partner in a variety of ways, with lots of sexy tips and imparting oodles of ideas to make your own submission scenes hot -- including explicit sexual contact. Nina submits to a drop-dead sexy dominant Sean Michaels, and then gives pointers as Amber Michaels submits to her real-life boyfriend, Frank Fortuna.
Available From

Gamelink: DVD
Ms Naughty: DVD
Good Vibrations: DVD