Feature porn films are full-length movies that have a traditional story arc amid the various sex scenes. Often the plot exists simply to provide excuses for sex but some of the better feature films are well worth watching as standalone stories. Here's a small selection of female-friendly feature porn films from some of the major producers.
Diary Of Love (2012)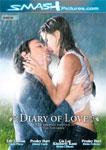 Here it is... the porn ripoff of The Notebook.
The blurb: Behind every great romance is a great story. When Ally (Presley Hart) and Noah (Richie Calhoun) get together as a summer fling it quickly sprouts into true love. Unfortunately Ally's rich upper class parents feel Noah is not suitable for their daughter and immediately put the kibosh on the blossoming romance. Seven years later the two meet again and quickly realize the old flame still burns bright. Ally is now faced with the dilemma of marrying a man her family approves of or going back with her one true love.
Starring: Kimberly Kane, Jonny Castle, Lily LaBeau, Presley Hart, Richie Calhoun, Lia Lor, Logan Pierce
Available From
Gamelink: DVD
Ms Naughty: DVD
Cafe Amore (2012)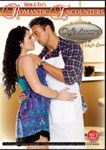 The blurb: Love is brewing at Vincent's popular coffee shop. As he pours his heart and soul into reopening his late wife's coffee shop, his customers are inspires to take a leap with their own journeys in love and lust. After watching from the sidelines for so long, will Vincent be able to move on and rediscover his own passion again as well?

Following the tragic death of his wife, Rocco Reed takes over her coffee shop to honor her memory and starts playing match-maker with his customers! But can Rocco let go of his past when he meets his own match?

Starring: Barrett Blade, Dana DeArmond, Anthony Rosano, David Lord, Alexis Texas, Andy San Dimas, Rocco Reed, Danny Mountain, Lily LaBeau
Available From
Gamelink: DVD or Download
Ms Naughty: DVD
Hot Movies: Download
The Friend Zone (2012)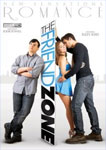 The blurb: Kevin and Gina are best friends that do absolutely everything together... almost. Unfortunately, despite harboring a major crush on her, he has never been able to move their relationship past the Friend Zone. So, when Gina suggests that they try their hand at online dating, Kevin's fear of losing her pushes him to do the unthinkable. Stealing the identity of his coworker, Cameron, and creating a fake online profile, he sets out to woo his best friend, Gina. but when she falls for her online suitor and demands that they meet in person, Kevin will have to risk everything by telling the truth. Will his deception destroy their entire relationship, or will they finally step outside the Friend Zone?
Starring: Anthony Rosano, Dana De Armond, Danny Mountain, Xander Corvus, Lexi Bloom, Giovanni Francesco, Riley Reid

Available From
Gamelink: DVD
Ms Naughty: DVD
From New Sensations Romance - See more of these films here.
Last Tango (2011)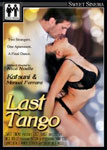 The blurb: Sweet Sinema revisits one of the classic cinema's most intense, controversial love stories, starring the most acclaimed French performers in adult film. Beautiful, reserved Katsuni is looking to rent a secret apartment to escape from arrogant fiancee James Deen. But when she shows up to view a vacant space, she's entranced by brooding, mysterious stranger Manuel Ferrara. Finding themselves alone, the two plunge into a sudden, impulsive affair based on raw sex and anonymity. But as they fall in love with their fantasies of each other, a grim reality and emotionally rich performances, Last Tango will change the way you view adult film - forever.

Starring:Manuel Ferrara, Annie Cruz, James Deen, Katsuni
Available From
Gamelink: DVD
Ms Naughty store: DVD
Hot Movies: Download
From Sweet Sinema - See all of their films here.
An Open Invitation: A Real Swingers Party In San Franciscio (2010)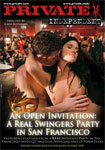 The blurb: An OPEN invitation is first and foremost a love story. The tale of a marriage not in trouble but which is elevated and erotically charged by a chance encounter with a couple over diner who plays in the alternative lifestyle, the movie follows the arc of how a couple moves from a staid, predictable and happy life to one filled with adventure, phenomenal sex and, most importantly, open communication about their desires. The movie has been called one of the best couples films of all time, using great on-location footage, subtle acting and well-crafted dialog to build some of the most believable and compelling sex scenes ever filmed. In addition to career-defining performances that earned the film 13 AVN nominations (including best film, best actress/actor, best girl/girl, best orgy), An OPEN Invitation intersects with an actual swingers party for the final scene. 127 real swingers got busy with the stars and each other to create a visually stunning cinematic milestone in adult film history. An OPEN Invitation redefines the standard for feature film in the industry.

Starring: Mark Davis, Jack Hammer, James Deen, India Summer, Tia Ling, Lorelei Lee, Wolf Hudson, Jessie Cox, Tara Lynn Foxx, Mickey Mod, Bella Rossi, Skylar Price, Dennis Popher, Seda, Gia DiMarco
Available From
Gamelink: DVD or Download
Ms Naughty: DVD
Hot Movies: Download
AEBN: Download
Good Vibrations: DVD
A Mother's Love (2012)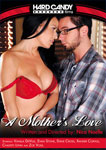 The blurb: Nurturing mom Vanna (Vanilla DeVille) has always had a soft spot for son Xander's best friend, Dane. So when Xander asks if Dane can visit during winter break, Vanna eagerly agrees. But when Dane arrives from college it's clear he's matured from boy to man, and Vanna finds herself feeling more than just "motherly love." Meanwhile, Dane can't deny his attraction to the gorgeous older woman who helped raise him. Will Xander and sister Zoe discover the secret that threatens to tear their family apart?

Starring: Vanilla DeVille, Evan Stone, Dane Cross, Xander Corvus, Chastity Lynn and Zoe Voss.
Available From
AEBN: Download
From Hard Candy Films and Nica Noelle. See more of Nica's films here
The Fate Of Love (2011)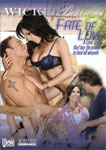 The blurb: After a successful heart transplant saves her life, Carolineis reluctant to date, fearing her former health problems will scare away potential suitors. Her sister is determined to get her back into social circles and while on a weekend camping trip, Caroline has a chance encounter with John. Although the two share an instant connection, initially neither one is ready to be more than friends. Eventually, just as they're ready to move to the next level, a devastating secret from John's past comes to light and threatens the budding romance. Will these two lovers find a way to overcome all they have endured and find a new beginning together, or can a painful past truly tempt the fate of love?

Starring: Kirsten Price, Rocco Reed, April O'Neil, Alexa Nicole, Bill Bailey, Seth Gamble, Ash Hollywood

Available From
Gamelink: DVD or download
Ms Naughty: DVD
AEBN: Download
From Wicked Passions. See all the Wicked Passions films here.
Champion (2009)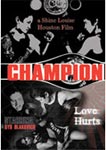 This major feature from lesbian auteur Shine Louise Houston has had the critics raving. Apart from all the hot queer sex, this film has a riveting story behind it. Hotshot martial artist Jessie Easton is training for the fight of her career, yet she's haunted by past love and current, undeniable attraction to her opponent, Violet Vahn. Throw in some conflict with corrupt nemesis Bobby Malone, and you've got an intensely erotic and masterful crossover film. Whether Jessie wins or loses the fight, you'll be squirming in more ways than one.

Starring: Syd Blakovich, Madison Young, Jiz Lee, Dylan Ryan

Available From
Gamelink: DVD or Download
Good Vibrations: DVD or Download
From Shine Louise Houston. See more of Shine's movies here.
The Stepmother: Sinful Seductions (2009)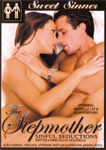 The blurb: Stepmothers have been associated with bad, even evil behavior. Which is why young Tera Dice is more than a little suspicious of Dad's hot, new wife (Michelle Lay). When Tera brings her fiancés Alan Stafford home to meet the family, Michelle can't hide her burning attraction to her young future son-in-law.

Will husband jay Huntington learn of Michelle's secret passion? Or will vengeful housekeeper Ann Marie have a different plan in store? Stephanie Swift costars in a scorching encounter with Johnny Castle, in this tale of seduction, forbidden desires, and passion.
Read our review here
Starring: Stephanie Swift, Michelle Lay, Jay Huntington, Johnny Castle, Alan Stafford, Ann Marie Rios, Tera Dice
Available From
Ms Naughty store: DVD
Gamelink: DVD or Download
Hot Movies: Download
AEBN: Download
From Hard Candy Films and Nica Noelle. See more of Nica's films here
Candida Royalle's Eyes of Desire 2 (1999)

In Eyes of Desire #2, Lisa's world becomes consumed by the dark, sensuous Daniel Parish, as he takes her to heights of sexual passion she never before experienced. But as she comes closer and closer to her own erotic limits she is forced to make a very painful choice. Is it possible to surrender to intense passion without losing yourself to another?

Starring: Jeannie Pepper Lexington Steele Mickey G. Missy Ramon Fernandez Rebecca Lord Steve Drake
Director: Candida Royalle
Studio: Adam and Eve
Available From
Ms Naughty store: DVD
Gamelink: DVD
From Candida Royalle - See all of Candida's films here.
Trial Run (2007)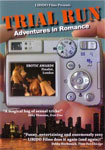 Tired of not having a boyfriend, Leah tries internet dating. To her great surprise, she meets her perfect match. But is he who he says he is? Leah's girlfriend, Eve Minax (who happens to be a dominatrix), offers to step in and screen her potential lover-setting off a series of unexpected fireworks.
Starring: Natalia, Adrian Sullivan, Mistress Eve, Minax, Dante, Samantha, Darkluv, Dylan and Tony Erik


Available From
Gamelink: DVD or Download
Hot Movies: Download
From Libido Films - See all of Libido's films here