Bed Party (2014)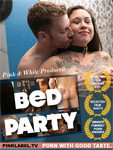 This film starring a real-life straight couple, offers a queer perspective on straight sex. It's possibly the first film I've ever seen that begins with a male anal gape. That may give you an idea of how different this straight porn film is. Yet it's also very sweet and incredibly sexy. It won Best Boygasm at the 2014 Feminist Porn Awards.
Read the Bed Party review here
Occupied (2013)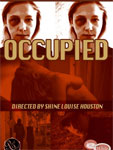 I've been meaning to check out Occupied for a while now. The premise is quite unique and just a little daring: it takes the political premise of the Occupy movement and melds it with queer porn. Now this film has won the XBiz inaugural Feminist Porn Release of the Year.
Read the Occupied review here
Come Find Me (2013)
Come Find Me features real-life heterosexual couple Poppy and Gaspar Johnson in their first scene together. The plot is relatively simple but very engaging: Gaspar sends Poppy on a bike-powered scavenger hunt, finally leading her to an abandoned house. Here he ties her up with bike tubes, spanks her, teases her, dominates her and generally gives her a fabulous sexy time.
Read the Come Find Me review here
Infidelite (2010)

This new film from French feminist director Ovidie depicts the French laissez-faire approach to cheating but also delves deeper into the issue, studying the complexities of long-term monogamous relationships with humour and compassion.
Read the Infidelite review here

Live Sex Show (2012)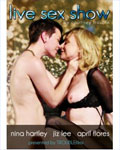 This film documents an actual live sex show that that is positive, interactive, amusing and really very hot. It also raises questions about the performative nature of porn, especially as the audience becomes involved with the sex scenes.
Read the Live Sex Show review here
Sexing The Transman XXX 2 (2012)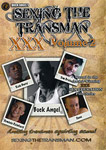 An erotic documentary that looks at the lives and sexuality of female-to-male transsexuals. Buck Angel interviews them and then we see them have sex... plus a bonus Buck sex scene!
Read the Sexing The Transman review here

Tristan Taormino's Expert Guide To Pegging (2012)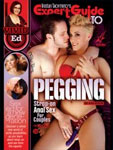 Pegging refers to a man being anally penetrated by a woman wearing a strapon, an act which both partners enjoy. This educational film breaks taboos by showing men being vulnerable during sex... and it features lots of useful information about pegging.
Read the Expert Guide To Pegging review here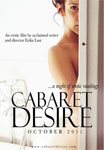 Cabaret Desire (2011)
This movie is, to put it mildly, brilliant. Certainly it's streets ahead of most adult films in terms of production values, ambition, realism and hotness. What makes this movie really shine is the storytelling.
Read the Cabaret Desire review here
Venus In Furs (2012)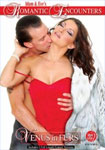 Venus In Furs is Adam and Eve's first foray into this newly re-established romance genre and I have to say, I quite liked it. The plot involves a father and son who both fall in love with the same woman.
Read the Venus In Furs review here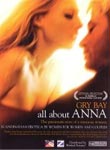 All About Anna (2003
What is the difference between "art" and "porn"? All About Anna declares itself to be art and unashamedly looks at sex within the context of relationships, refusing to cut away or fade to black when the fucking starts.
Read the All About Anna review here
An Eternal Love (2010)
The first film in the Romance series promises "sensuality and passion, romance and commitment, connection and devotion". While it looks good, I'm not sure it delivers emotionally.
Read the An Eternal Love review here
Life, Love, Lust (2010)
Life, Love, Lust is an elegant erotic masterpiece. It's a shining example of how a sexually explicit film can be thought-provoking, emotionally satisfying and arousing, all at once.
Read the Life, Love, Lust review here
An Open Invitation (2010)
fantasies promised by Kubrick in Eyes Wide Shut. It offers the promise of a real orgy performed by real swingers, going at it in full view of the cameras. And given that most of us have daydreamed about this kind of scenario occasionally, the scenario created by this film is very appealing.
Read the An Open Invitation review here
The Stepmother (2009)
Nica Noelle's success with her films is the concept of "keeping it real" – making sure that all the sex is authentic, passionate and results in female orgasms. The Stepmother, her first Sweet Sinner film, triumphs because the sex is just so, well, normal.
Read the The Stepmother review here
Tristan Taormino's Rough Sex (2009)
I felt distinctly uncomfortable with the idea of watching Tristan Taormino's Rough Sex. This kind of porn is not the type I would willingly seek out or enjoy. What changed my mind, however, was the motivation behind Tristan's film. This is feisty feminist porn where context is everything.
Read the Rough Sex review here
The Band (2009)
The Band is a grungy, independent Australian film that features plenty of extensive, explicit sex scenes while also offering a fleshed-out characters and an enjoyable story arc. Add a liberal dose of humour of you've got a thoroughly impressive erotic film
Read the The Band review here
Urban Friction (2002)
This is an erotic movie that revolves around exploring sexual fantasies and it does an excellent job of illuminating the subject while arousing the audience. But Urban Friction is not your standard porn film and yet it offers a mind-blowing threesome scene that makes it a must-see.
Read the Urban Friction review here
Champion (2009)
I'm happy to confirm that Champion is indeed a champion of a porn film. And this is coming from a straight chick who has never been a fan of boxing films. Not only is it very sexy, it's also a decent indie film that you can easily watch to find out what happens next.
Read the Champion review here
Feeling It! (2008)
How to adequately review a film that has reduced me to tears of joy - not once, but twice? How to discuss a movie that somehow reached into my big girly heart and unleashed a torrent of delight mixed with arousal? Suffice to say that Feeling It by Petra Joy is one of the most sensual, erotic and emotionally powerful adult films I've ever seen...
Read the Feeling It! review here
Five Hot Stories For Her (2006)
I've been waiting a long time to see Erika Lust's first feature film and I'm pleased to say that it certainly lives up to expectations. This movie is a joy to behold and it ticks all the boxes - great acting, engaging stories, beautiful cinemetography and hot, hot sex.
Read the Five Hot Stories For Her review here
Chemistry (2007)
The idea behind Chemistry is simple: take seven porn stars, put them in a house together for 36 hours, interview them, let them have sex any way they want and then film the result. Yes, it does sound rather like a certain popular reality TV show but Chemistry is much more interesting than that.
Read the Chemistry review here
Handyman (2007)
This film offers up a veritable feast of hot male flesh indulging in self pleasure. Ten straight guys, some of them well-known porn stars, relax in front of Tina's one-woman production team and get down to some serious DIY sex...
Read the Handyman review here
Tristan Taormino's Expert Guide To Anal Sex (2007)
Anal sex is now a standard act in most porn films but far too often it's presented in a negative, sexist way that associates anal penetration with pain and submission. This is why Tristan Taormino is a godsend...
Read the Expert Guide To Anal Sex review here
Addicted To Niko (2007)
Put simply, Niko is gorgeous.Every inch of his body is perfectly tanned and toned. His face is chiselled and very easy on the eye, and he's got a butt they could hang in the Louve.
Read the Addicted To Niko review here
Ashley and Kisha: Finding The Right Fit (2007)
You won't find any of those annoying porn cliches in Ashley and Kisha: Finding The Right Fit. Rather, you'll encounter the sort of lovemaking that regularly occurs in the bedrooms of lesbians all over the world.
Read the Ashley and Kisha review here
The Ultimate Guide To Anal Sex For Women (1999)
The film itself is a somewhat strange mix of instructional guide and full-on gonzo porn movie. The anal sex is hot: you WILL need your vibrator...
Read the Ultimate Guide To Anal Sex For Women review here
FEATURED: Female Fantasies (2006)

I'll just say it. I absolutely love this film. It offers everything I've ever wanted from an adult movie and ticks all the boxes in my list of "what should be in a porn movie for women." It is, quite simply, completely fabulous.
Candida Royalle's Under The Covers (2007)
Under The Covers, Candida Royalle's 18th adult film for women is, in essence, a film about discovery. It's about peeling back layers and finding something new.
Read the Under The Covers review here
The Bi Apple (2007)
The Bi Apple is a new brand of adult movie, one that aims to be "pansexual... It aims to appeal to women as well as men, to gay and bi viewers as well as hetero ones.
Read the The Bi Apple review here.
Matt and Khym: Better Than Ever (2006)
Matt and Khym is the fourth documentary-style adult film from independent producers Comstock Films, and I'm pleased to say it's just as good as its predecessors.
Read the Matt and Khym review here.
City of Flesh 6: Lisa's Little Secret (2006)
In this movie, Estelle Joseph aims to explore the issues of love, infidelity and what really constitutes "sex". I think it achieves these aims admirably.
Read the City of Flesh 6 review here.
Erockatvision (2005)
Imagine your average music video: quick edits, quirky camera angles and visual effects, all accompanied by music. Now imagine what it would look like if the video depicted women having sex with each other...
Read the Erocktavision review here.
Playgirl's Burning Lust (2006)
Burning Lust is pretty similar to Erotic Encounters, but it has a number of nice elements that make it better than it's successor. Despite myself, I rather liked this film.
Read the Burning Lust review here.
Pirates (2005)
Pirates is the Titanic of the adult industry. To date it's the most expensive porn movie ever made, rumoured to have cost over $1 million, although it's now a major bestseller. And yet, despite all this, it's a bit ordinary, really.
Read the Pirates review here.
Ranch House Lust (2006)
I'll get to the point. This film is boring. It's boring even when watched at three times the speed...
Read the Ranch House Lust review here.
Erotic Encounters (2006)
Erotic Encounters features vignette-style sex scenes depicting female fantasies, lovingly shot with soft focus, sweeping camera shots and non-irritating music. Beautiful people abound in their films, especially the men.
Read the Erotic Encounters review here.
Damon and Hunter: Doing It Together (2006)
Tony Comstock's third "pornomentary" is by far his most ambitious. This time he takes his unique form of filmmaking into the bedroom of Damon DeMarco and Hunter James, two up-and-coming gay porn stars who are also very much in love...
Read the Damon and Hunter review here.
Eyes of Desire (1998)
Eyes of Desire is one of Candida Royalle's best films. Years of honing her skills as an adult filmmaker and a creator of women's erotica are on display in this movie, and the result is an extremely watchable and enjoyable film...
Read the Eyes of Desire review here.
Caribbean Heat (2005)
Caribbean Heat offers slow, languid sex. In this film, foreplay and oral sex are the main course. The ladies all enjoy long episodes of cunnilingus from their men, which is a great touch. I love to see muff diving being given full attention in a film...
Read the Caribbean Heat review here.
A&O Department (2005)
Anna Span is Britain's first porn film director. Her dissertation at university was entitled "Towards a New Pornography." So as you can imagine, she brings a very unique, intellectual, female perspective to the world of porn...
Read the A&O Department review here.
City of Flesh 3: Cummittment (2005)
City of Flesh 3 would have to be my favourite film in the City of Flesh series. By far the standout reason I love this movie is because of Maxx. This rather hunky male porn star is an absolute cunnilingus champion...
Read the City of Flesh 3 review here.
City of Flesh 4: Indulgence (2005)
I'm pleased to say that City of Flesh 4 is an accomplished adult film and I believe that a lot of female viewers will enjoy viewing it. It's a movie for those women who love to watch explicit porno sex, but don't want to bother with extensive plotlines or overtly romantic trimmings...
Read the City of Flesh 4 review here.
Xana and Dax: When Opposites Attract (2005)
Having been wowed by Tony Comstock's first film Marie and Jack: A Hardcore Love Story, I was eagerly looking forward to seeing his new effort, Xana and Dax: When Opposites Attract. And I'm happy to say that I wasn't disappointed. This film is another fine example of how intelligent, engaging and beautiful porn can be....
Read the Xana and Dax review here.
Marie and Jack: A Hardcore Love Story (2002)
It's not often that porn can have me on the edge of tears and smiling at the same time. In fact, I'm to the point that most porn movies have me rolling my eyes in disdain, even if they are making my lower half squirm uncontrollably. But Marie and Jack: A Hardcore Love Story is different. Oh boy, is it different...
Read the Marie and Jack review here.
Red Vibe Diaries (1997)
Perhaps the best way to describe this James Avalon feature film is to compare it to almost having an orgasm, but not quite getting there. You know those ones - where all the conditions seem to be right, and you think you're on a winner, but somehow, little things get in the way and you just can't quite make it...

Read the review here.
Book: The Ultimate Guide to Adult Videos (2003)
Essentially, this book does the work for aspiring female viewers of porn. It cuts through the dross and offers up 300 of the best titles available, allowing the viewer to easily make decisions about what kind of movie she wants to watch, and where to get it from. This alone makes it well worth a look...

Read the review here.